Product Overview
Logitech Rally Plus
ALL TOGETHER NOW
STUDIO-QUALITY VIDEO
With an Ultra-HD imaging system, Rally delivers brilliantly sharp video, outstanding color, and exceptional optical accuracy at resolutions up to 4K. Logitech RightLight™ technology optimizes light balance to emphasize faces and render natural-looking skin tones, even in dim or backlit conditions.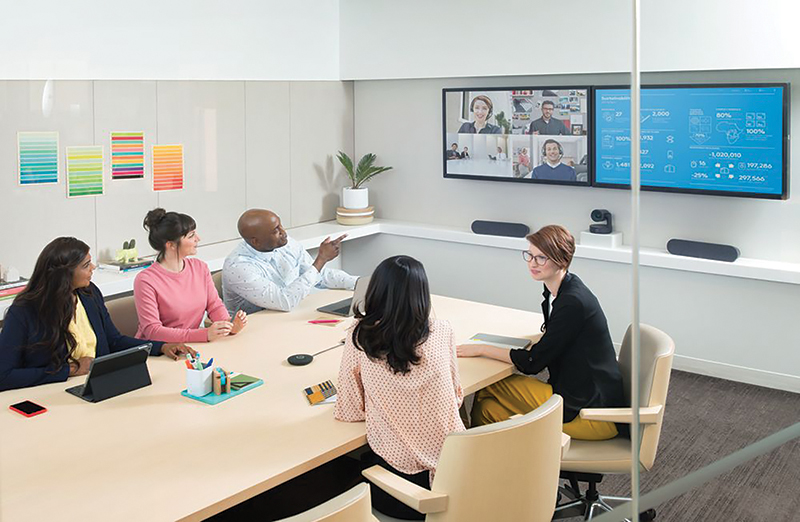 ADVANCED MODULAR AUDIO
Crystal-clear audio is essential for world-class video conferencing, and Rally excels in delivering sound that's natural, crisp, and highly intelligible. Logitech RightSound™ enhances voice clarity by suppressing background noise, auto-leveling voices, and focusing on active speakers. Exquisitely sensitive mic pods ensure that everyone in the meeting can be clearly heard while stand-alone speakers fill larger rooms with rich, life-like sound.
SLEEK INDUSTRIAL DESIGN
Every component in the Rally system features premium industrial design suitable for any professional setting. Even as Rally helps everyone look and sound great during video meetings, each part of the system looks great in its own right. The premium PTZ camera at the core of the system is elegantly finished in matte black with slate gray metal trim, complemented by sleekly designed audio components and accessories that look great in any room.

ENHANCED USER EXPERIENCE
Logitech RightSense is a suite of technologies built into Rally that automate a better user experience. RightSight™ perfectly auto-frames participants no matter their distance from the lens. RightLight prioritizes faces over environment to render natural-looking skin tones while RightSound enhances vocal clarity by suppressing background noise, auto-leveling voices, and focusing on active speakers to support better meetings —automatically!
Works with everything.
Logitech Meetup works with all leading video and audio conferencing solutions and is certified for use with Microsoft Teams, Google & Zoom. Be confident that your team can connect, whatever equipment they're using.
ADDITIONAL FEATURES
SEE EVERYONE, PERFECTLY FRAMED
Logitech RightSight camera control1 automatically moves and adjusts the lens to comfortably frame meeting participants in rooms of all shapes and sizes.
LET THE SUNSHINE IN
Even in meeting rooms with bright windows, Logitech RightLight technology with Wide Dynamic Range (WDR) prioritizes faces and human figures over objects and surfaces. The result is a balanced image that renders participants in flattering light with reduced glare and softer shadows, even in dim or backlit conditions
ADAPTIVE PAN, TILT AND ZOOM
Pan and tilt speeds automatically adapt to the level of zoom. The result: faster camera movement when zoomed out for quick framing and slower camera movement when zoomed in for more control.
FRONT OF ROOM AUDIO
Unlike tabletop speakerphones that decouple voices from video, Rally speakers are designed for placement at the front of the room. By aligning speakers with the display, a person's voice and video both come from the same place and never from behind you — so conversations feel more natural and lifelike.
StarTech Thunderbolt 3 Docking Station
Applications
Review/edit images or media files on two 4K HDMI displays
Transfer a 4K movie in under 30 seconds
Ideal for shared or temporary work stations, such as hot desks (hoteling)
Plug-and-play by bringing your own laptop.