Logitech MX Vertical Advanced Ergonomic Wireless Mouse
Logitech MX Vertical Advanced Ergonomic Wireless Mouse – Advanced Ergonomic Design Reduces Muscle Strain, Control and Move Content Between 3 Windows and Apple Computers (Bluetooth or USB), Rechargeable, Graphite.
Logitech MX Vertical Advanced Ergonomic Wireless Mouse Description
MX Vertical is an advanced ergonomic mouse that combines science-driven design with the elevated performance of Logitech's MX series. Rise above discomfort with a mouse designed to reduce muscle strain, decrease wrist pressure, and improve posture.
Features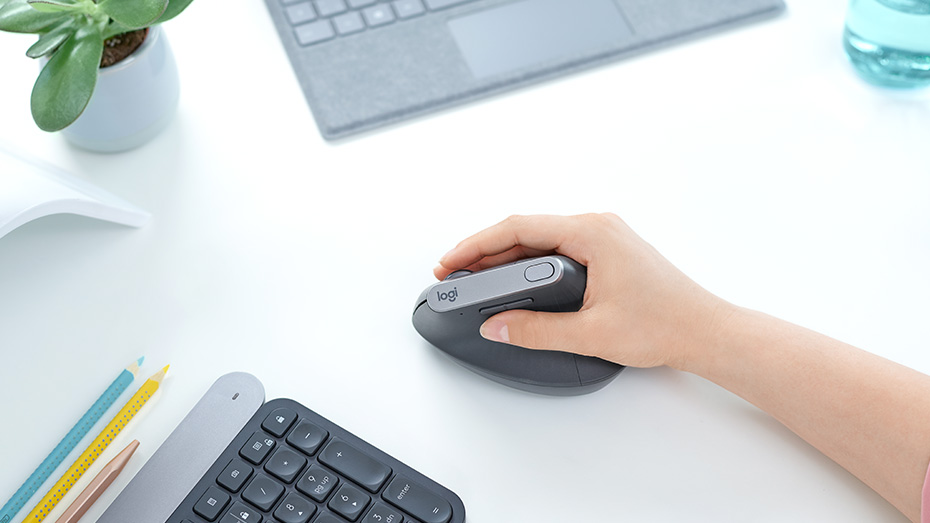 NATURAL HANDSHAKE POSITION
MX Vertical's natural handshake position reduces muscular strain by 10 percent1 and promotes a more ergonomic posture.
57° VERTICAL ANGLE FOR IMPROVED WRIST POSTURE
MX Vertical's unique 57° vertical angle reduces the pressure on your wrist, while your thumb is positioned comfortably on the thumb rest.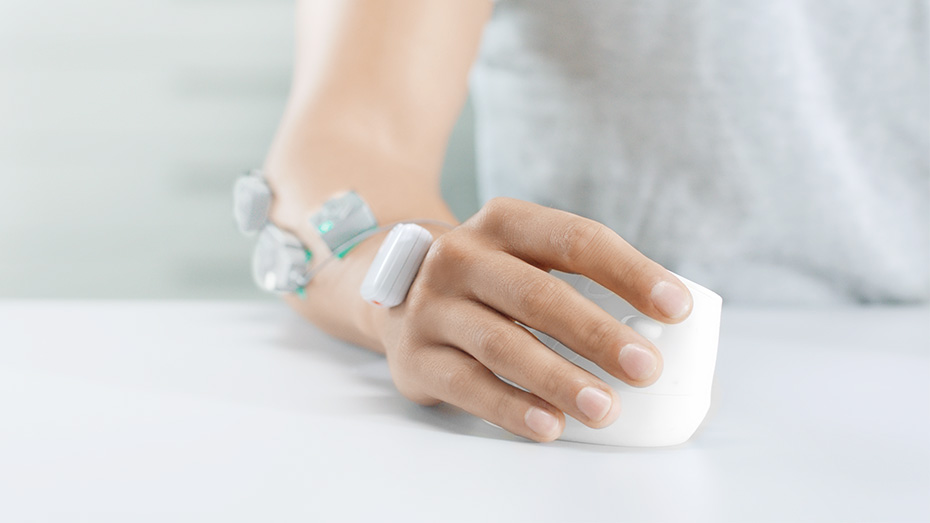 USER TESTED. ERGONOMIST-APPROVED.
MX Vertical has been designed and tested with criteria set out by leading ergonomists – improving posture, lowering muscle strain, and reducing wrist pressure.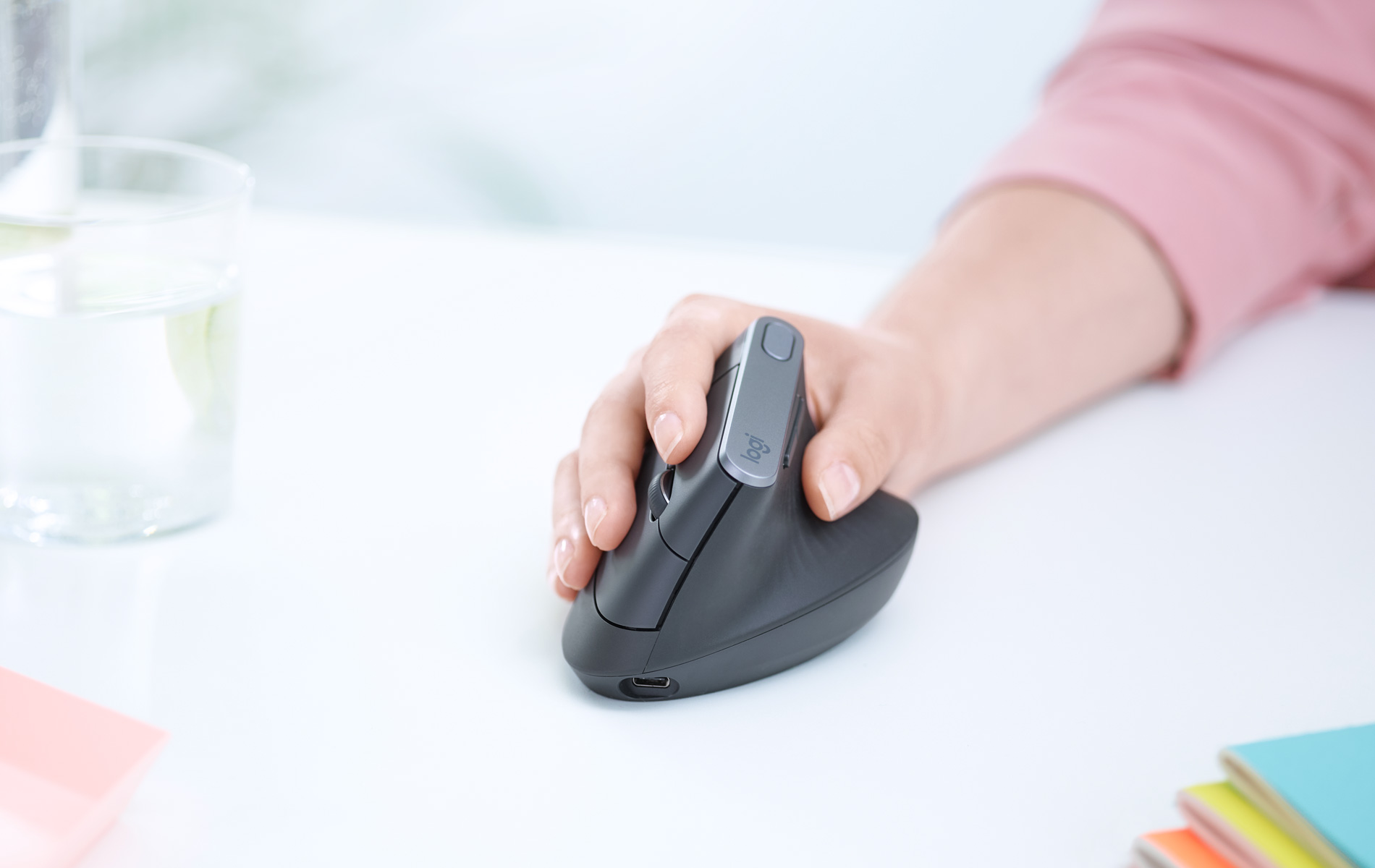 4X LESS HAND MOVEMENT
Advanced optical tracking with a dedicated cursor speed switch results in 4x less hand movement2 – reducing muscle and hand fatigue. Cursor speed and accuracy can be customized in Logitech® Options™.
COMFORT FORM WITH TEXTURED SURFACE
MX Vertical is shaped for the human hand and smooth to the touch.
Its unique form is designed to fit a variety of hand shapes and sizes, while the textured rubber surface assures a solid and natural grip.

ELEVATED PERFORMANCE
Logitech's MX mice are engineered for masters of their craft who want to get more done, more efficiently.
Logitech Flow allows you to seamlessly control multiple computers – and you can customize buttons, set application-specific functions, and adjust cursor speed via Logitech Options software.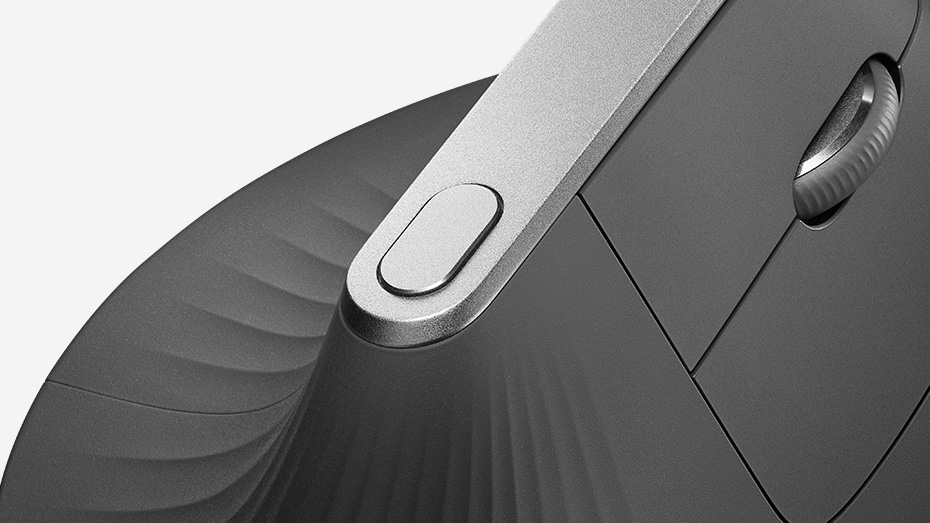 CURSOR SPEED SWITCH
Change the speed and accuracy of your cursor for optimal control with a press of a button.
MX Vertical features a best-in-class 4000 DPI high-precision sensor, resulting in 4x less hand movement2

PREMIUM SCROLL WHEEL
Get things done quicker with a precision scroll wheel featuring a convenient middle click.

FAST RECHARGING
Stay powered for up to four months on a full charge – and get three hours of use from a one-minute quick charge. Use the USB-C charging cable to top up the power.3
Specifications
MX Vertical
• Dimensions (H x W x D): 78.5 mm x 79 mm x 120 mm
• Weight: 135 g
Unifying Receiver
• Dimensions (H x W x D): 18.4 mm x 14.4 mm x 6.6 mm
• Weight: 2 g
Sensor
• Nominal value: 1000 dpi & 1600dpi
• DPI (Minimal and maximal value): 400 to 4000 dpi (can be set in increments of 50 dpi)
Buttons
• 4 Customizable buttons (By default: Back/Forward, DPI, Middle click)
Scroll Wheel
• Precision wheel
Batterylife
• Rechargeable Li-Po battery (240mAh)
• Wireless Operating Distance: 10m wireless
Requirements
Unifying Receiver
• Required: Available USB port
• Windows 10 or later, Windows 8, Windows 7
• macOS X 10.13.6 or later
Bluetooth
• Required: Bluetooth low energy technology
• Windows 10 or later, Windows 8
• macOSX 10.13.6 or later
USB-C
• Required: Available USB port
• Windows 10 or later, Windows 8, Windows 7
• macOSX 10.13.6 or later
Package Contents
• Mouse
• Unifying receiver
• USB-C charging cable (USB-A to USB-C)
• User documentation