Product Overview
Startech USB Drive Duplicator and Eraser – 1:5 (USBDUP15)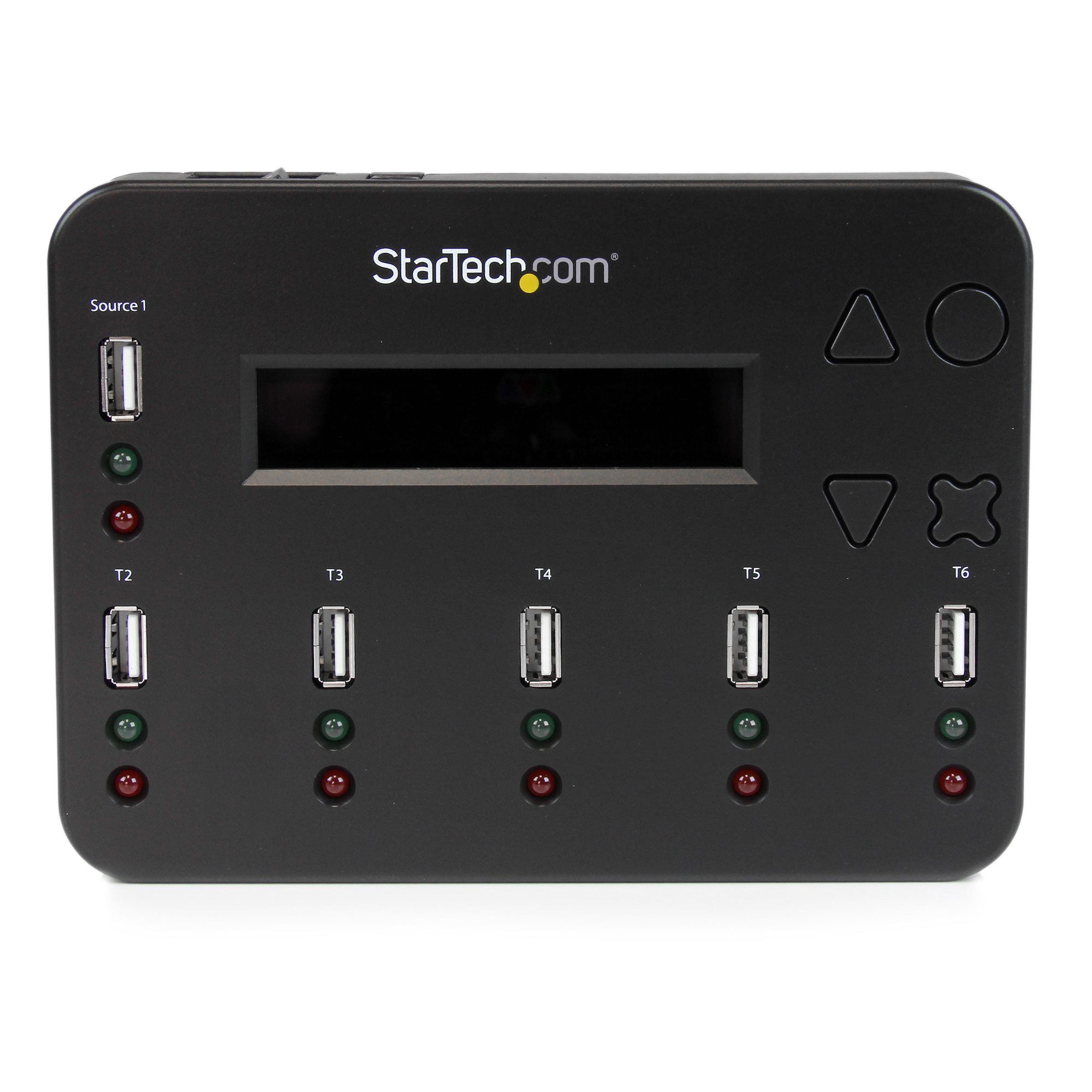 Startech USB Drive Duplicator and Eraser Description
Startech USB Drive Duplicator and Eraser – 1:5 (USBDUP15) – The USBDUP15 OnetoFive USB flash drive duplicator and eraser lets you quickly clone up to five backups of a single USB flash drive, or securely erase up to five flash drives, without connecting to a host computer.
Maximum Portability
Featuring a compact lightweight design that you can carry anywhere, and standalone operation that does not require a host computer, the flash drive duplicator and eraser has a small desktop footprint and is great for travel. Perfect for software and marketing content distribution in the office or on-the-go.
Hassle-free Operation
With an easy-to-read LCD display and intuitive four button menu operation, the USBDUP15 ensures hassle-free setup and control. The menu gives you push-button access to many value-added features that ensure simple task management such as: Capacity & Speed Check, Copy & Compare, Asynchronous Copy, and many more. It also provides numerous advanced setup options for experienced users.
Fast Duplication and Secure Erasing
This versatile device is both hard drive cloner and eraser in one, and offers two duplication modes (File & System Copy / Whole Copy) with up to 1.5GB/m at Whole Copy mode.  It offers three erase modes (Quick Erase / Full Erase / DoD Erase) giving you the freedom to choose the best solution for your application.
The USBDUP15 is TAA compliant and backed by a 2-year StarTech.com warranty and lifetime technical support.
Note: The USBDUP15 flash drive duplicator supports copying/cloning to SD/ SDHC/ Micro SD/ MMC/ Mini SD/ CF media through a USB multimedia card reader (sold separately) and to Hard Drives or Solid State Drives through a hard drive docking station or USB enclosure (sold separately)
Software and operating system updating and distributions

Marketing collateral copying and distribution

Rich media coping and distributions

Quickly backup USB flash drives without a host computer

Create exact copies of a USB flash drive in law enforcement and forensic investigations

Thoroughly erase data from a flash drive, for added data security and peace of mind

Clean and prepare USB drives for reuse

Testing and evaluating USB drives

Maximize portability with a compact, lightweight design and standalone operation

Hassle-free performance with easy-to-read LCD display
Feature
Supports USB 3.0/2.0/1.1 flash drives

1:5 standalone duplication with 2 duplication modes

Erase up to 5 USB flash drives with single-pass and multi-pass overwriting/DoD erasing

High-speed duplication at up to 1.5GB per minute

Compact, lightweight design

TAA compliant

Built-in LCD display

Check drive capacity, quality and speed with intuitive task management

Supports both Asynchronous and Synchronous copy modes, for quick batch swapping with 64 MB of internal memory
Technical Specifications
Drive Connectors: 6 – USB Type-A (4 pin) USB 2.0
---
Operating Temperature: 5°C ~ 45°C (41°F ~ 113°F)
Storage Temperature: -20°C ~ 85°C (-4°F ~ 185°F)
---
Compatible Drive Types: USB Flash Drive
Drive Installation: Removable
---
5 – Green (Activity/Successful Copy)
---
Package Height: 3.2 in [82 mm]
Package Length: 9.1 in [23.1 cm]
Package Width: 7.1 in [18 cm]
Shipping (Package) Weight: 26.2 oz [742 g]
---
Duplication Modes: System and File, Sector by Sector (Whole Drive)
Duplication Speed: 1.5GBpm
1-Pass Overwrite (NIST SP 800-88 Rev 1 – Clear)
---
Product Length: 6.6 in [16.7 cm]
Product Width: 4.7 in [12 cm]
Product Height: 1.0 in [2.5 cm]
Weight of Product: 11.2 oz [318 g]
---
Power Source: AC Adapter Included
Input Voltage: 100 – 240 AC
Center Tip Polarity: Positive
Power Consumption (In Watts): 10
---
OS Compatibility: OS independent; No software or drivers required
---
Special Notes / Requirements
System and Cable Requirements
For duplication, the destination drives must be of equal or greater capacity than the source drive.
Supports copying/cloning/erasing to SD/ SDHC/ Micro SD/ MMC/ Mini SD/ CF media through a USB multimedia card reader (sold separately) and to Hard Drives or Solid State Drives through a Hard Drive docking station or USB enclosure (sold separately) if supported by the storage media
---
1 – Universal power adapter: comes ready for NA/EU/UK only when you buy in NA/EU/UK; comes ready for Australia and New Zealand only when you buy in Australia and New Zealand
Additional Information
Product Manufactured by: Startech
Product Found in: Drive Enclosures
Cackle Part Number: 503976
Manufacturer Part Number: USBDUP15