Product Overview
UNITEK 5M USB 3.0 Extension Cable USB-A Male To Female
UNITEK 5m USB 3.0 Extension Cable with Built-in Extension Chipset. Aluminium Designed Housing, Transfer Speeds up to 5Gbps, Gold Plated Connector, DC Jack for External Power, Plug and Play.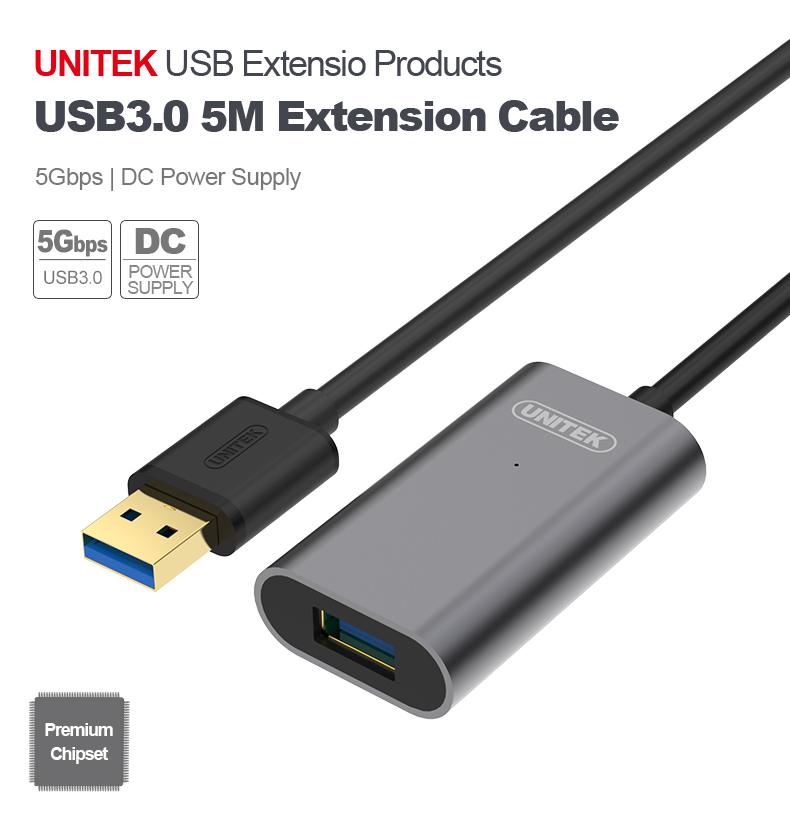 Features
Design with aluminium housing, stronger and durable.
Built-in USB3.0 extension chipset for extending the transmission distance.
With USB3.0 specification, data transfer speeds up to 5Gbps. Backward compatible with USB2.0/1.1.
Gold-plated connector, effectively stabilises the transmission signal.
With premium USB cable.
With a DC jack, it used to connect the external power supply to enhance the performance of the extension cable.
Plug and play, no need to install the driver.
UNITEK 5M USB 3.0 Technical Specifications
Product Dimension: 57mm x 33mm x 15mm
Upstream: 1 x USB3.0 Type-A Male
Downstream: 1 x USB3.0 Type-A Female
OD: 6.0mm
Additional Details
Product Manufactured by: Unitek
Product Found in: USB Cables
Cackle Part Number: CU103
Manufacturer Part Number: Y-3004