Product Overview
Startech SVA12M5NA DC Power Adapter – 12V, 5A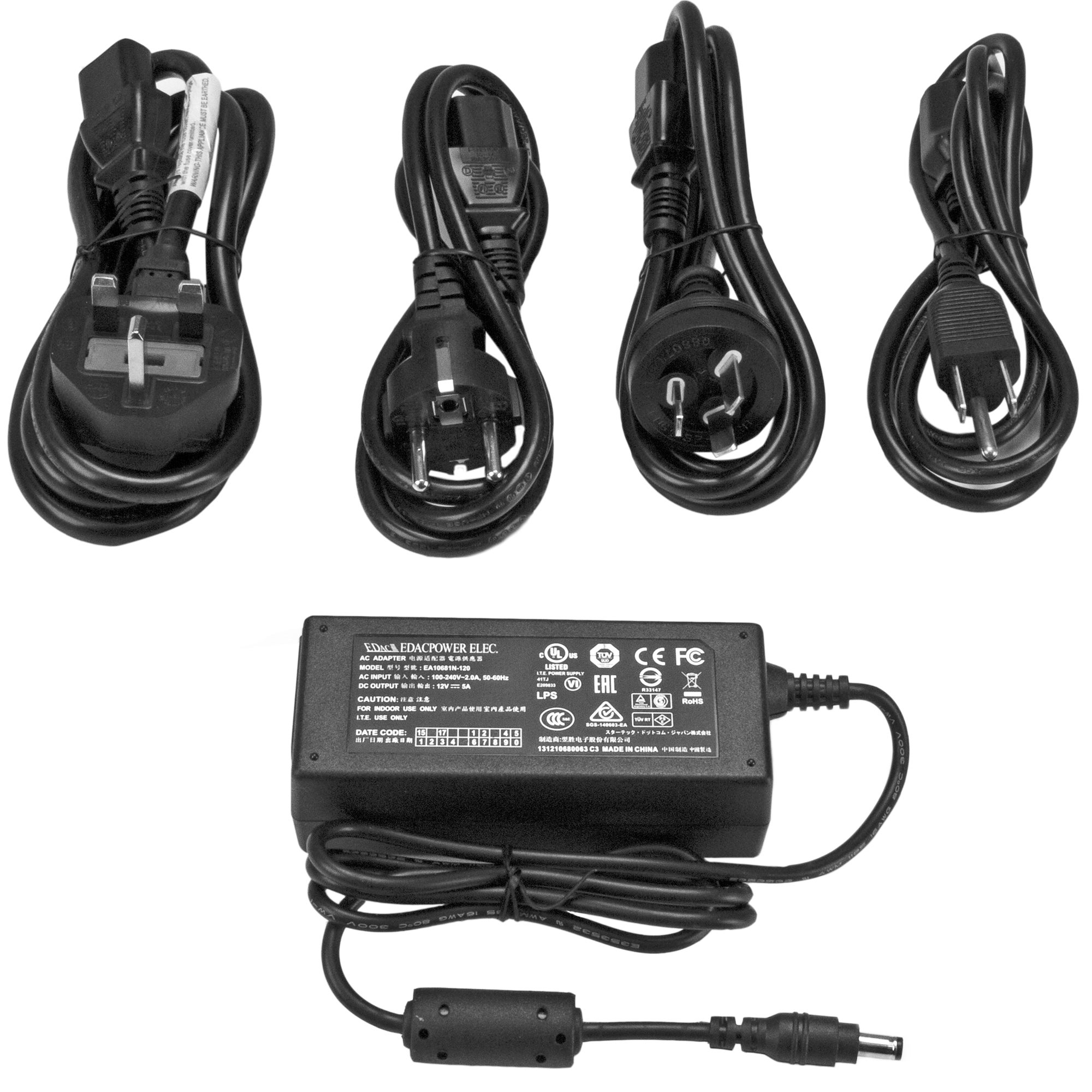 Startech SVA12M5NA Description
Startech SVA12M5NA replacement power adapter can provide a power source for any electronic device that has an M type barrel jack and requires 12 volts and up to 5 amps of power.
Replace your failed or lost power adapter
The adapter is a perfect replacement for the lost or damaged power adapter you've used to power your existing electronics.
Keep a spare power adapter on hand
When downtime isn't an option, keeping spare power adapters on hand ensures that you won't be left waiting for a replacement to arrive or have to replace your devices just for the sake of a compatible power source.
This power adapter is a direct replacement for the power adapters included with the following StarTech.com products:
Conference Table Box for AV Connectivity
Fiber Media Converter Gigabit 1000Mbps MM Fibre LC 550m
Gigabit Ethernet Copper-to-Fiber Media Converter – SM LC 20 km
Multi-Input to HDMI Automatic Switch and Converter 4K
USB 3.0 SATA Hard Drive Duplicator & Eraser Dock
HDMI over CAT5 HDBaseT Extender
4K HDMI over CAT5 HDBaseT Extender
HDMI Over CAT5/CAT6 Extender with Power Over Cable
HDMI over CAT5 HDBaseT Extender RS232 IR Ultra HD 4K 330 ft
4-Port Industrial USB 3.0 Hub
Startech SVA12M5NA Features
Replace a lost or broken power adapter
Keep an extra power adapter on hand for your mission-critical devices
Use a single power adapter as you travel between multiple regions
Technical Specifications
| | | |
| --- | --- | --- |
| Warranty Information | Warranty | 2 Years |
| Packaging Information | Package Height | 2.0 in [51.0 mm] |
| | Package Length | 12.6 in [32.0 cm] |
| | Shipping (Package) Weight | 32.6 oz [924.2 g] |
| | Package Width | 8.7 in [22.0 cm] |
| Physical Characteristics | Weight of Product | 32.0 oz [905.8 g] |
| | Cable Length | 3.3 ft [1.0 m] |
| | Product Length | 4.3 in [11.0 cm] |
| | Product Width | 1.8 in [46.0 mm] |
| | Product Height | 1.4 in [35.0 mm] |
| Power | Power Source | AC Adapter Included |
| | Input Voltage | 100 – 240 AC |
| | Input Current | 2 A |
| | Output Voltage | 12V DC |
| | Output Current | 5 A |
| | Center Tip Polarity | Positive |
| | Plug Type | M |
| What's in the Box | 1 – Included in Package | universal power adapter (NA/JP, EU, UK, AU) |
Additional Details
Product Manufactured by: Startech
Product Found in: Power Adapters
Cackle Part Number: CST281
Manufacturer Part Number: SVA12M5NA