Product Overview
D-LINK AX3200 Mesh System – Mesh WiFi 3 Pack (M32-3PK)
D-LINK AX3200 Mesh System Description
D-LINK AX3200 Mesh System – Mesh WiFi 3 Pack (M32-3PK)
Blazing-fast Speed: Enhanced wireless communication with dual-band Wi-Fi. Speed up to 3200Mbps, 800Mbps in 2.4GHz, and 2402Mbps in 5GHz.
Smart AI technology: AI Mesh Optimizer makes it easy to connect to other Mesh Routers and covers an extra 8000 sq. ft more of your Home or Office.
Multiple Users: MU-MIMO allows a Wi-Fi router to communicate simultaneously with multiple devices. Beamforming ensures secure and reliable wireless communication.
High Security: WPA3 protocol brings better protections to individual users and intolerance against password guessing attacks.
Voice Control: Easy home Wi-Fi network with Voice Control by Alexa / Google Assistant. Enable or Disable your Wi-Fi network with simple voice commands.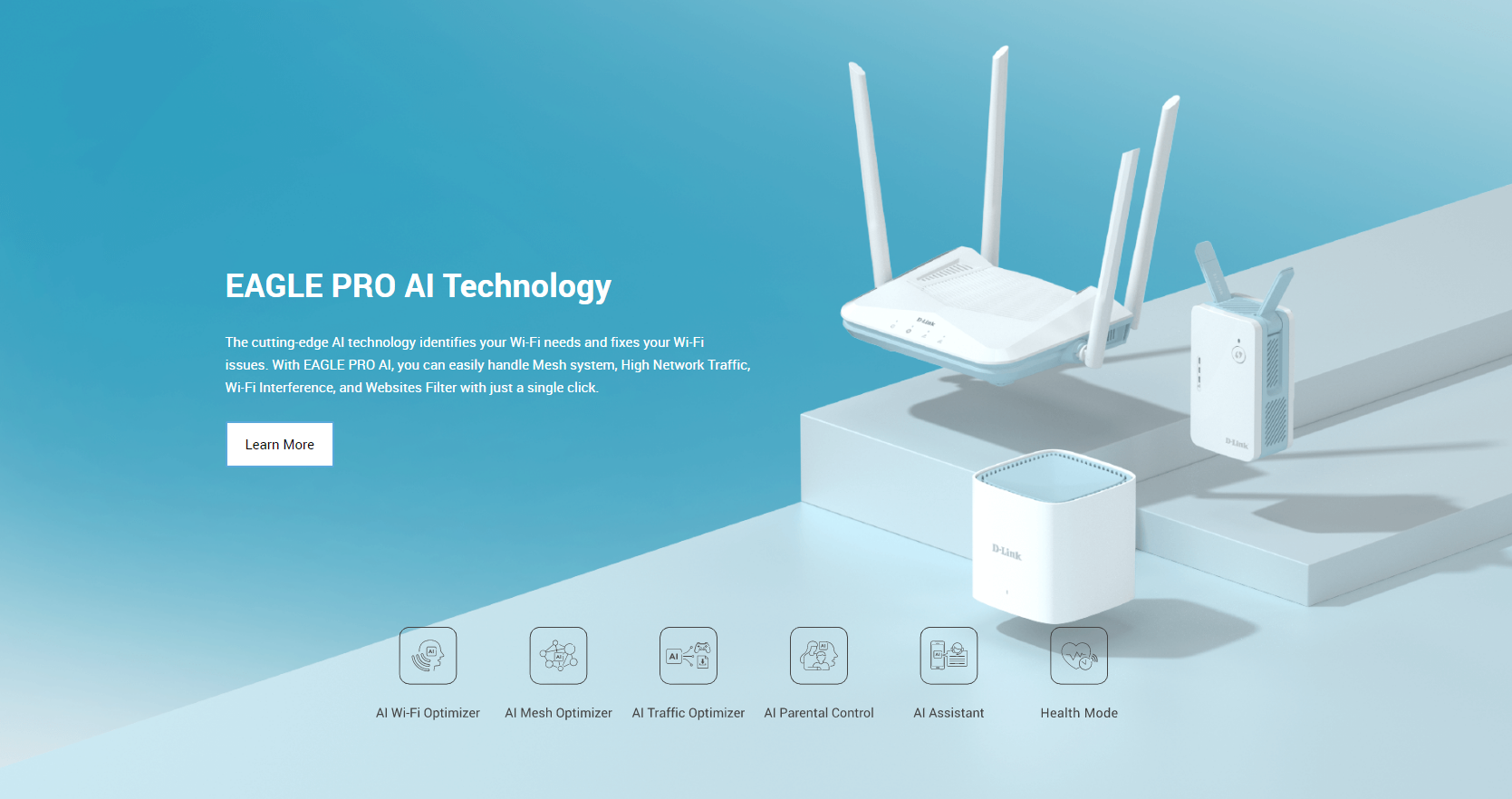 Feature
Wi-Fi 6 — the Best Choice
Wi-Fi 6 technology supports more secure connections with higher speeds and less latency for more devices.
More Devices, Faster W-Fi, Greater Coverage
Wi-Fi 6 features bi-directional MU-MIMO technology to handle more simultaneous users at faster data rates, and beamforming capability to greatly extend Wi-Fi coverage area.
More Users at Once, Lower Latency
Wi-Fi 6 offers OFDMA technology to serve more device connections at once to significantly reduce network latency.
Power Savings on Mobile Device
Target Wake Time (TWT) technology schedules connected devices to be awake or asleep during designated time periods. This not only saves device battery life, but also reduces network congestion.
Keeping Your Network Safe
With the latest WPA3 support the Clean Network Initiative compliant M32 helps keep your network more secure and private.
Reliable Connections for Greater Coverage
Beamforming technology lets you embark on a new experience as it pinpoints device locations to focus signals for Reliable Connectivity and Promised Data Transmission across greater distances.
One App to Rule Them All
The EAGLE PRO AI gives you complete control over your Wi-Fi. Established AI-powered application obtainable for both Android and iOS smart devices
Easy Installation
EAGLE PRO AI application will ease your configuration by few clicks. Scan the QR code and following steps will straight to the effortless installation.
Works with Google Assistant and Alexa
Easily integrates with Amazon Echo's Alexa or the Google Assistant for convenient hands-free voice control.
Technical Specifications
| | |
| --- | --- |
| Device Interfaces | 2 x Gigabit Ethernet LAN port, 1 x Gigabit Ethernet WAN port, 1 x WPS button, 1 x power connector |
| IEEE Standards | IEEE 802.11ax/ac/n/g/b/k/v/a/h, IEEE 802.3u/ab |
| Antennas | 4 x internal dual band antennas |
| Wi-Fi Data Rate | 2.4 GHz Up to 800 Mbps, 5 GHz Up to 2402 Mbps |
| Maximum Power Consumption | 15.51 W |
| Firewall | DoS, Stateful Packet Inspection, Anti-spoofing Checking, IP/MAC Address Filtering, 1 x DMZ |
| Security Features | WPA/WPA2 -Personal, WPA2-Personal, WPA2/WPA3 – Personal, WPA3 Only (WPS Not supported) |
| Device Management | EAGLE PRO AI app (iOS and Android), Web UI |
| LED Display | Power/ Status |
| Voice Assistants | Amazon Alexa, the Google Assistant |
| Dimensions | 164.61 x 71.07 x 185.65 mm |
| Weight | 486 g |
| Power Input | 12V, 2A |
| Operating Temperature | 0 to 40 °C (32 to 104 °F) |
| Operating Humidity | 10% to 90% non-condensing |
| Certifications | CE, FCC |
Additional Information
Product Manufactured by: D-LINK
Product Found in: Mesh WiFi
Cackle Part Number: 505804
Manufacturer Part Number: M32-3PK