Introduction - Jabra PanaCast 50 VBS
Jabra PanaCast 50 VBS (Video Bar System) is a complete solution that enables small and medium rooms to play host to more inclusive, more immersive virtual meetings. An Android collaboration bar which completes Jabra's portfolio to deliver innovative video collaboration experiences that make hybrid working simple.
Video Collaboration, reinvented.​
Integrated video bar that runs Microsoft Teams Rooms or Zoom Rooms on Android and supports third party meeting natively without the need for external compute unit.
One Touch is All It Takes
We have all experienced the stress of rushing last minute into a meeting and then frantically fumbling around to get set up on time.
With Jabra PanaCast 50 Video Bar System, it has an easy-to-use PanaCast Control touchscreen tablet to manage everything. You can simply walk into the next meeting and instantly get going – directly joining, sharing content, and ending meetings with a simple tap.
Jabra reinvented meeting room audio for the hybrid working era with eight professional-grade beamforming microphones with intelligent algorithms to reduce disruptive noise.
An array of four powerful engineered speakers, in a zero-vibration stereo setup, fill the room with high-definition audio, while the latest 2-way audio technology delivers more natural conversations. Sounds like productivity.
Gone All-In To Capture Everyone
The full 180° field of view of the PanaCast 50, means you can utilize the full meeting rooms, wall-to-wall, not the 60% visible with traditional single camera systems, allowing you to benefit fully from your real estate investments.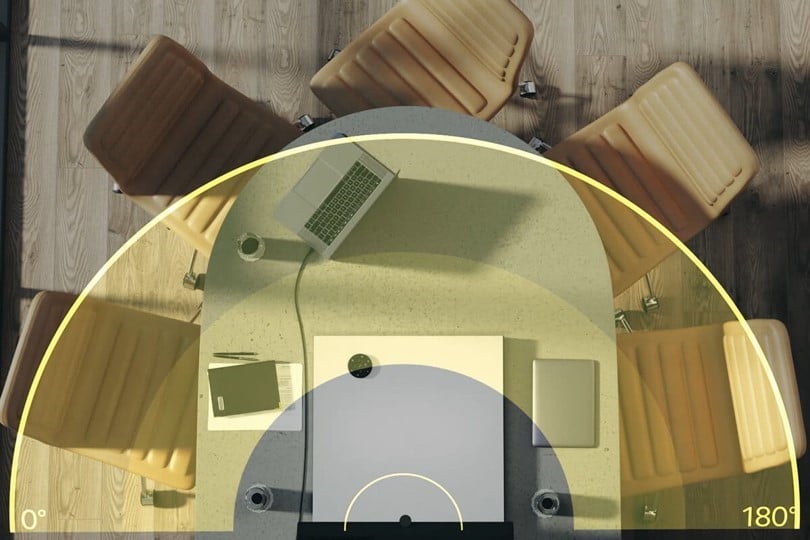 Patented real-time video stitching technology automatically joins the streams from three 13-megapixel cameras together live, with no latency or distortion, creating a smooth, 180° field of view in Panoramic 4K resolution.
Jabra PanaCast 50 & PanaCast Controller Specifications
Fill in your details on the contact form
and we'll be in touch as soon as possible.