In 2021, we are no strangers to video meetings anymore and it's becoming more mainstream of how we conduct meetings and collaborate with our clients and colleagues. Now you can enjoy even higher quality and convenience with the new Poly Studio P-Series.
Meet the Studio P5 Webcam and Studio P15 Camera Sound bar. The P-Series Product is the first of Poly's new line of camera for the home office and enterprise. After testing both cameras for a period of time, I must say the experience did not disappoint. The clarity and video quality that both camera produce straight out of the box is truly incomparable.
Grab one and try it yourself from the link below.
Studio P5 Webcam
Let's start with the little brother of the pack. The Studio P5 Professional Webcam offers 1080p full high definition at 50hz or 60Hz with an 80-degree field of view so you're always looking your best. Onboard are impressive optics which has automatic low light compensation so you can enjoy excellent no matter where you have to make your video call or meeting.
There is also 4x zoom which makes it easier to frame yourself and your background. And your audio is also covered thanks to the single directional microphone which focuses on your voice and is optimized for personal workspaces so you'll sound as good as it looks.
The camera connects to a regular USB-A port and once it's plugged in, it can be used on whatever video apps you choose – Teams, Zoom, WebEx, FaceTime and the list goes on… Simply choose the Poly Studio P5 as your preferred camera and microphone.
For added security and peace of mind, there is also a physical camera shutter which blocks the camera completely.
It is the ideal camera for personal meeting. Clear video, crisp audio, no additional drivers required and simple to use – All you need for a professional personal webcam.
Studio P15 All-in-One Camera Sound Bar
The big brother in the series is a camera sound bar that has some of the best collaboration technology in the industry has to offer. The Studio P15 come out of the box with certification from Microsoft Teams and Zoom and the camera has an impressive, shooting in 4K resolution, 90-degree field of view, 4x zoom, a powerful image sensor that will provide professional-level video performance for meeting and collaboration.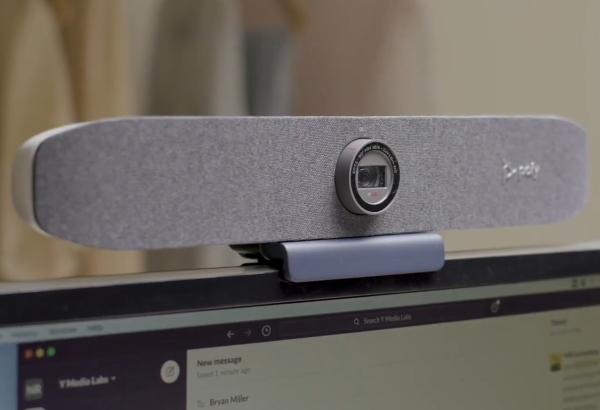 The sound bar is a loud integrated speaker with 3-element beamforming microphone array. A removeable monitor clamp also come as part of the package content, along with power supply, USB-C cable and setup sheet in the box.
First of all, when you have 4K resolution and auto framing it's already a winning solution. During our testing when we moved around to either side of the frame, Studio P15 would automatically reframe us into the middle and some instances, auto zoom out to get a better view – This made sure the attendee on the other side of the meeting could always see in.
The sound bar has an integrated speaker and microphone array that performs exceptionally well for controlling audio levels. Noise cancellation and clear cut audio matters a lot for meetings so you can hear and be heard. The system comes with Poly NoiseBlockAI technology designed to mute outside noise from disrupting the meeting.
While having meetings at home, we have all heard kid yelling in the background, the person munching on a bag of chips, or mobile phones ringing obnoxiously in the middle of the meeting. When we did a few test calls with some of the above audio distractions, in many instances the Studio P15 used NoiseBlockAI to filter out the unwanted noise and only responded to the speech frequency.
Poly's Acoustic Fence technology is another piece of science that Poly put into the sound bar that helps create a better audio experience. In short, Acoustic Fence limits the surface area that your Poly Studio P15 will pick up the audio on either side of you. So any noise that is outside that area of the fence will be automatically muted. Acoustic Fence is beneficial when someone else is on a conference call nearby or watching TV in the next room.
The settings for both models can be tuned, tweaked and made to fit your requirement within the Poly Lens app. Poly Lens is an essential piece of the puzzle for delivering a great collaboration experience. Users can adjust device voice, video, and other settings in a singular place. From our experience, it doesn't get much easier than Poly Lens. Any setting you want to adjust or software update needed is in a single, easy-to-use interface. It also allows the IT managers to remotely manage these devices for staffs that are working from home. Poly Lens provides an insight dashboard with analytics around the Studio P-Series Camera for better management.
All in all, we were incredibly impressed with both Studio P5 and Studio P15. Great job, Poly. You need to try one of these out to believe it – Click the link below and get your hands on one of them today!