Dell 55″ Interactive Touch Screen C5518QT
Impressive visuals. Impactful presentations.
Exceptional viewing: Brilliant 4K resolution will keep audiences captivated, and consistent colours across a wide viewing angle allow everyone in the room to view clear text and crisp, vivid visuals.
Optimal performance: Dell monitor technology optimises fonts and ensures that visuals appear sharp while operating everyday programs like Microsoft PowerPoint, Word and Excel.
Consistent clarity: Anti-glare and anti-smudge coatings reduce distracting reflections and fingerprints.
Great for groups: The impressive 55-inch touch screen is ideal for conference room settings of up to 8 people.
Just the right touch
Constructive collaboration: Featuring up to 20 touch points with innovative InGlass™ Technology: multiple people can interact with the screen simultaneously via touch or styluses with 2 mm pen tips, making group collaboration intuitive and seamless.
Smooth interaction: The two included styluses allow you to write or draw naturally in real time directly on the screen without any lagging, while the included remote allows added functionality.
User-friendly functionality: Pen and finger differentiation makes it easy to switch between touch and pen-based interaction, and touch functionality is supported on virtually all industry-standard software.
Simple set-up and management.
Convenient connectivity: A variety of ports – including HDMI, VGA, DisplayPort USB – makes it easy to connect to most IT devices.
OptiPlex compatibility: The Dell 55 4K Interactive Touch Monitor features a unique design that's compatible with the optional Dell OptiPlex Micro, which integrates seamlessly into the back panel without the need of a separate power cable.
Easy manageability: The Dell Display Manager lets users easily screen layouts. RS232 and RJ45 interfaces allow you to manage the display remotely.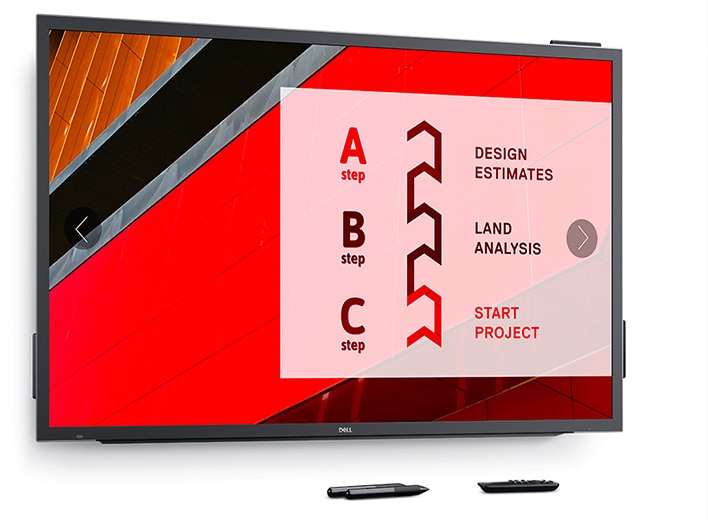 Connectivity Options
Ports and Slots:
1. Power Connector | 2. HDMI (x3) | 3. USB Type-B (x3) | 4. USB 3.0 | 5. DisplayPort | 6. Charging Port | 7. VGA | 8. RS232 Input | 9. Audio Input | 10. Audio Output | 11. RJ45 Ethernet
Cables Included:
1. Power Cable
2. DP-DP Cable
3. HDMI-HDMI Cable
4. VGA Cable
5. USB Cable
6. USB Upstream Cable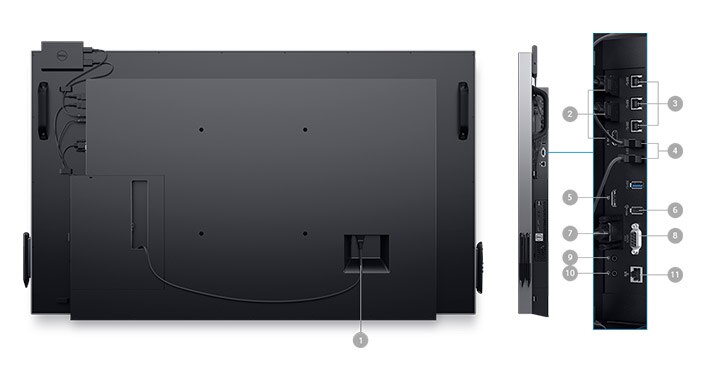 Logitech Meetup
All-in-one conferencecam with an ultra-wide lens for small rooms
Works with everything.
Logitech Meetup works with all leading video and audio conferencing solutions and is certified for use with Microsoft Teams, Google & Zoom. Be confident that your team can connect, whatever equipment they're using.
Speak Easy with Full Deplex & Advanced Beamforming
Front-of-room alignment of voice and video is just the first step to natural conversations. RightSound™ technologies include a beamforming mic array that captures speech, while auto-leveling louder and software voices and suppressing noise.
Rightsight
With RightSight™ computer vision, MeetUp automatically adjusts camera position and zoom to find and frame people in the room. Unlike voice tracking systems that jump from person to person, RightSight frames everyone in the conversation for a more comfortable and collaborative experience.
Features
5X ZOOM
Perfectly frame presenters to minimize background distractions. Zoom in on whiteboards and objects so remote participants can see what you see. Thanks to its advanced 4K image sensor, video remains sharp and clear, even when you zoom in on the details.
PREMIUM CAMERA OPTICS
MeetUp features exquisitely engineered, premium camera optics that capture a wide field-of-view without distorting faces and furniture with a "fisheye" effect. Faces look natural, whiteboard writing remains legible, and straight lines stay straight.
EXTENDED RANGE
Logitech Expansion Mic for MeetUp provides greater flexibility in huddle room configurations. Meetup's built-in beamforming mics are optimized for up to 4 meters. To extend that range up to 5 meters, add an Expansion Mic. So whether people are seated at a table, sitting against the wall, or walking around the room, Expansion Mic for MeetUp means everyone will be heard.
BLUETOOTH SPEAKERPHONE
Already connected on your smartphone? Dialing into an audio conference? Pair MeetUp with your smartphone or tablet to enjoy outstanding audio clarity, volume, and range that handheld devices can't match.
TAKE CONTROL
When you need to adjust the volume, mute the microphone, or take manual control over camera position, MeetUp''s remote control uses radio frequency (RF) signals for reliable and discreet control from anywhere in the room. You can even download the free Logi Remote app (available on iTunes) to control MeetUp with an iPhone or iPad.
WALL SAVER
No drilling? No problem. By attaching to the VESA mounting points behind the display, the optional TV Mount for MeetUp lets you position MeetUp above or below the display without drilling new holes.
RIGHTSENSE TECHNOLOGIES
Logitech RightSense™ proactive technologies make better video meetings easy and automatic. RightSound optimizes the human voice and enhances conversational clarity, RightSight automatically moves the camera and adjusts the zoom so no one gets left out of the picture, and RightLight helps everyone look their best on camera, regardless of lighting conditions.
Dell Optiplex 7070 Micro Desktop
Operating System
Available with Windows 10 for a smooth, versatile PC experience.
Expand your productivity.
OptiPlex has over 25 years of experience delivering customer-led innovation for desktops by continuously creating faster and smarter solutions. Featuring versatile, space-saving form factors with customized deployment options and 9th gen Intel® Core™ Processors.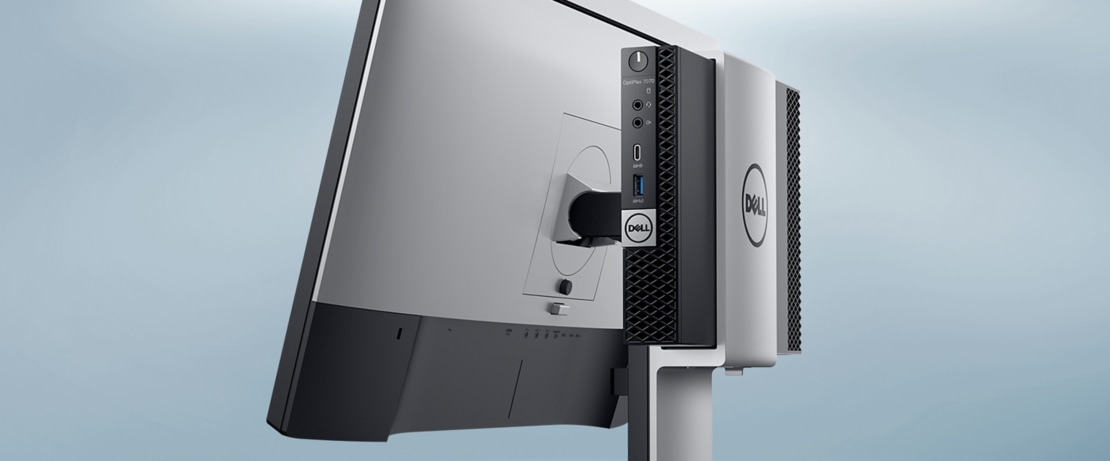 Designed to tackle the workday
Compact without compromise: Full-power features in a space-saving design, more workers choose the OptiPlex micro than ever before. The micro takes up less surface area while delivering uncompromising productivity.
Ultimate configurability: Customized mounting options allow OptiPlex users to achieve a tailored workflow with faster performance and smarter manageability.
Mount it and forget it: Featuring exclusive custom mounting options, including the OptiPlex Micro All-in-One Stand or the VESA mount, the micro adapts to your unique environment, giving you the freedom to work how you want.
Stronger signal: Improve wireless performance with the latest 802.11ac Wave 2 Wi-Fi. Stay connected at a greater distance from your router and deliver top Wi-Fi speeds for faster streaming.
Powerful productivity
Power your work: 9th Gen Intel® Processors up to CoreTM i9 65W with up to 8 cores keep you working at peak performance. And with Intel Unite®, meetings can be set up in seconds rather than minutes.
Faster connectivity: The new USB 3.1 Gen 2 ports are offering faster speed than the USB 3.1 Gen 1.
Connect with ease: Support up to three monitors with two native DisplayPorts and optional third video port. Choose from third DisplayPort, HDMI 2.0b, VGA, or USB Type-C™ Alt Mode.
Boot up faster than ever: Launch your most-used files and applications in a flash with optional Intel® Optane™ memory. Adaptive to user needs, it preloads and accelerates frequently used applications and files, providing better responsiveness without compromising storage capacity. Everyday tasks are up to twice as responsive with Intel® Optane™ memory*.
OptiPlex 7070 Micro with Intel Unite®
Smoother collaboration. Smarter meetings: Transform any room into a secure, modern meeting space with Intel Unite® software. Delivering fast, easy wireless presentations, quick deployment, and split-screen sharing for up to four users on one display, Intel Unite® is built on an open platform to securely integrate inside customer IT environments while being device agnostic. Users can connect, share and display with a split-screen view, mark-up shared content, and drag and drop files with ease.
Manage and secure with ease
Ultimate convenience: Manage all your Windows 10 endpoints from one console with Dell Client Command Suite and VMware Workspace ONE integration. Optional Intel®vPro™ technology available on OptiPlex 7000 series allows for remote and out-of-band management capabilities.
Be secure: OptiPlex features TPM, chassis intrusion switches and optional cable and port covers. In a world of growing attacks, keep your competitive advantage yours with Dell Trusted Devices that have embedded and optional security solutions and services.
Work confidently: Dell SafeBIOS provides the assurance that the BIOS has not been tampered with or adjusted unknowingly. Additionally, Dell SafeData gives end users the freedom to smartly collaborate knowing data they create is protected, even when it is created and stored in the cloud.
We've got your business covered
ProDeploy Client Suite: We help you deploy PCs with greater speed, less effort and more control. You will direct every detail of your deployment with our TechDirect portal with an unprecedented level of control, automation and simplicity.
ProSupport: Let us make hardware and software support easy. ProSupport offers 24×7 access to in-region advanced technology experts who contact you when critical issues arise,* all so you can focus on the strategic work that moves your business ahead.
ProSupport Plus: With our most complete support service for PCs, you get all the capabilities of ProSupport plus hard drive failure prevention,* repair for drops, spills and surges and hard drive retention* in the case of replacement. In today's fast moving culture, there's no time for downtime. Dell has your back. Upgrade to ProSupport Plus.
Ports & Slots
1. Power Button | 2. Universal Audio Jack | 3. Line-out | 4. USB 3.1 Gen 2 Type-C™ Port | 5. USB 3.1 Gen 1 Type-A Port (with Powershare) | 6. Video Port (Optional DP/HDMI/VGA/Serial) | 7. Thumbscrew | 8. Knock-out Slots for Wireless Antenna| 9. RJ-45 | 10. USB 3.1 Gen 1 Type-A Ports (2), USB 3.1 Gen 2 Type-A Ports (2)| 11. Padlock Loop | 12. K-lock Slot | 13. DisplayPorts (2) | 14. Power Connection
Dimensions & Weight
1. Width 3.6cm (1.4″) | 2. Depth 17.8cm (7.0″) | 3. Height 18.2cm (7.2″) | Minimum Weight 1.18kg (2.6lb)