Product Overview
Dell 75″ Interactive Touch Screen C7520QT
The future of collaboration
Instant engagement: With InGlass™ 20-point touch capability, multiple users can interact with the screen at the same time.
Intuitive technology: Experience natural touch functionality, a feature that allows you to annotate with your fingers, write with a stylusi, or even erase written content with the palm of your hand with virtually no lag. And, since the touch functionality is compatible with most industry-standard software (as well as included FlatFrog software), it integrates seamlessly into however you work.
More ways to display: Quickly tile and arrange your applications by conveniently selecting from predefined templates with the Easy Arrange feature on Dell Display Manager software. You can also start presentations faster with Auto-restore, a feature that remembers your last presentation layout.
Exclusive to Dell. Inclusive to all.
Improve reachability for users of different heights using our exclusive Dell Screen Drop technology, the world's first accessibility featurei. Raise, lower and mark up the image at three different height settings via the buttons at the side of the panel.
Present with power
Keep them captivated: Showcase every vivid image on a 75″ screen with 4K resolution. Plus, from virtually anywhere in the room, your audience will see consistent colors across the screen thanks to the wide viewing angle enabled by In-Plane Switching (IPS) technology.
Look for longer: Engage your audience's attention with crisp visuals and text. And Dell's ComfortView reduces blue-light emissions for greater eye comfort, allowing your audience to focus for extended periods of time.
Eye-catching clarity: Keep the focus on your work, not distracting reflections or fingerprints, thanks to the anti-glare and anti-smudge coatings.
Speak to your audience: Bring every video or audio element to life with the built-in 2x20W speakers.
Simple setup. Streamlined manageability.
All-in-one convenience: This interactive touch monitor seamlessly integrates an optional Dell OptiPlex Micro PC, which allows IT to select the best option for your business needs. Including the ability to upgrade as needed and easily upload your preferred corporate image, that gives you a display solution which adheres to your company's security and service standards.
Built to ease IT management: IT can manage the monitor remotely with RS232, RJ45 and HDMI CEC connectivity.
Lock it down: Reduce display changes in high traffic environments with lock mode, a feature that allows IT to control menu and power options.
Connectivity Options
Ports & Slots:
1. HDMI 2.0 x 3 | 2. DisplayPort 1.2 | 3. VGA | 4. Audio Line-In | 5. Audio Line-Outi | 6. USB 3.0 Upstream x 3 | 7. USB 3.0 Downstream x 3 | 8. USB Dedicated Charging Port | 9. RS232 | 10. RJ45
Cables included:
1. HDMI 2.0 Cable | 2. VGA Cable | 3. DisplayPort Cable | 4. USB 3.1 Cable | 5. Power Cord | 6. OptiPlex Power Cord
Logitech Meetup
All-in-one conferencecam with an ultra-wide lens for small rooms
Works with everything.
Logitech Meetup works with all leading video and audio conferencing solutions and is certified for use with Microsoft Teams, Google & Zoom. Be confident that your team can connect, whatever equipment they're using.
Speak Easy with Full Deplex & Advanced Beamforming
Front-of-room alignment of voice and video is just the first step to natural conversations. RightSound™ technologies include a beamforming mic array that captures speech, while auto-leveling louder and software voices and suppressing noise.
Rightsight
With RightSight™ computer vision, MeetUp automatically adjusts camera position and zoom to find and frame people in the room. Unlike voice tracking systems that jump from person to person, RightSight frames everyone in the conversation for a more comfortable and collaborative experience.
Features
5X ZOOM
Perfectly frame presenters to minimize background distractions. Zoom in on whiteboards and objects so remote participants can see what you see. Thanks to its advanced 4K image sensor, video remains sharp and clear, even when you zoom in on the details.
PREMIUM CAMERA OPTICS
MeetUp features exquisitely engineered, premium camera optics that capture a wide field-of-view without distorting faces and furniture with a "fisheye" effect. Faces look natural, whiteboard writing remains legible, and straight lines stay straight.
EXTENDED RANGE
Logitech Expansion Mic for MeetUp provides greater flexibility in huddle room configurations. Meetup's built-in beamforming mics are optimized for up to 4 meters. To extend that range up to 5 meters, add an Expansion Mic. So whether people are seated at a table, sitting against the wall, or walking around the room, Expansion Mic for MeetUp means everyone will be heard.
BLUETOOTH SPEAKERPHONE
Already connected on your smartphone? Dialing into an audio conference? Pair MeetUp with your smartphone or tablet to enjoy outstanding audio clarity, volume, and range that handheld devices can't match.
TAKE CONTROL
When you need to adjust the volume, mute the microphone, or take manual control over camera position, MeetUp''s remote control uses radio frequency (RF) signals for reliable and discreet control from anywhere in the room. You can even download the free Logi Remote app (available on iTunes) to control MeetUp with an iPhone or iPad.
WALL SAVER
No drilling? No problem. By attaching to the VESA mounting points behind the display, the optional TV Mount for MeetUp lets you position MeetUp above or below the display without drilling new holes.
RIGHTSENSE TECHNOLOGIES
Logitech RightSense™ proactive technologies make better video meetings easy and automatic. RightSound optimizes the human voice and enhances conversational clarity, RightSight automatically moves the camera and adjusts the zoom so no one gets left out of the picture, and RightLight helps everyone look their best on camera, regardless of lighting conditions.
Logitech Expansion Microphone for Meetup
Superior Sound in Larger Huddle Rooms
Logitech Expansion Mic for MeetUp provides greater flexibility in huddle room configurations. Meetup's built-in beamforming mics are optimzed for up to 4 meters (13.1 feet). To extend that range up to 5 meters (16.4 feet), add an Expansion Mic. So whether people are seated at a table, sitting against the wall, or standing, Expansion Mic for MeetUp means everyone will be heard.
Hear Clarity Up to 5 Meters
Because huddle rooms vary in size, we created Expansion Mic to provide additional flexibility in different room configurations. Expansion Mic extends Meetup's microphone pickup range to 5 meters (16.4 feet).
Easily Mute Calls
A microphone mute button lets those at the far end of the table mute the entire speakerphone system. The indicator light shows when the microphone is muted, when a call is active, and when Bluetooth® wireless pairing has begun.
StarTech USB-C Dock – HDMI, RJ-45, 2x USB-A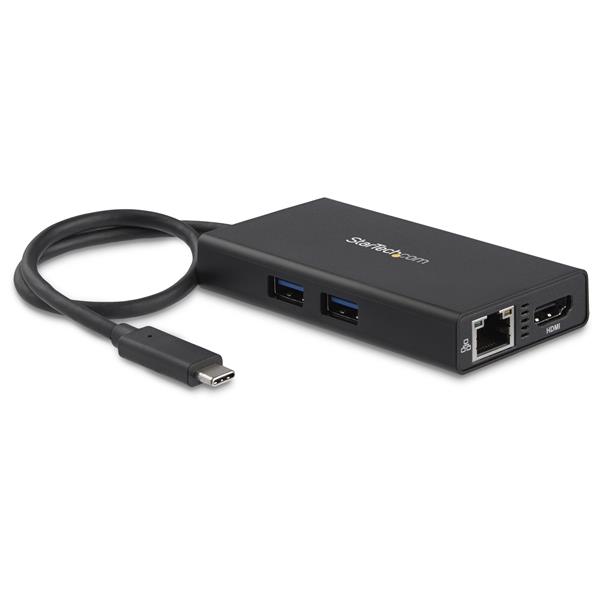 Description
Turn your MacBook or Windows® laptop into a workstation, anywhere you go, with this USB-C™ multiport adapter with HDMI.
Connect a UHD 4K HDMI Monitor 
Connect your USB-C or Thunderbolt 3 laptop to a 4K 30Hz monitor, using this USB-C video adapter to create a dual-display workstation. Get more work done with an additional display, allowing you to multitask more efficiently or connect your laptop to an HDMI projector or TV for presentations in a boardroom.
Charge Your Laptop 
The portable laptop docking station features a USB-C Power Delivery port that lets you power and charge your USB-C laptop during a presentation or while you're working. It's perfect for port limited laptops with a single USB-C port. Even with the adapter connected to the laptop, you can still power and charge your laptop with a USB-C power adapter.
Enhance Productivity 
The 4K HDMI adapter gives you the connections you need to get more work done. You can connect peripherals like a flash drive or mouse using the two USB 3.0 Type-A ports. You can also add wired network connectivity with the Gigabit Ethernet port, making it ideal in areas without Wi-Fi.
DKT30CHPD is TAA compliant and is backed by a StarTech.com 3-year warranty and free lifetime technical support.