Product Overview
Dell 86″ Interactive Touch Screen C8621QT
Impressive visuals. Impactful presentations
Exceptional viewing: Brilliant 4K resolution will keep audiences captivated, and consistent colors across a wide viewing angle allow everyone in the room to view clear text and crisp, vivid visuals.
Optimal performance: Dell monitor technology optimizes fonts and ensures visuals appear sharp while operating everyday programs like Microsoft PowerPoint, Word and Excel.
Consistent clarity: Anti-glare and anti-smudge coatings reduce distracting reflections and fingerprints.
Built for bigger groups: The impressive 85.6-inch touch screen is ideal for conference room settings of up to 12 people.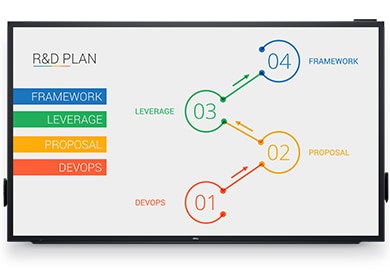 Just the right touch.
Constructive collaboration: Featuring up to 20 touch points with innovative InGlass™ Technology, multiple people can interact with the screen simultaneously via touch or styluses with 2mm pen tips, making group collaboration intuitive and seamless.
Smooth interaction: Two included styluses allow you to write or draw naturally in real time directly on the screen without any lagging, while the included remote allows added functionality.
User-friendly functionality: Pen and finger differentiation makes it easy to switch between touch and pen-based interaction, and touch functionality is supported on virtually all industry-standard software.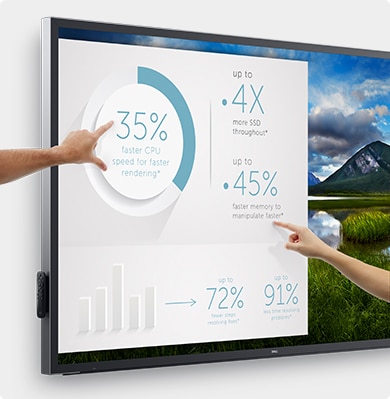 Simple set-up and management.
Convenient connectivity: A variety of ports – including HDMI, VGA, DisplayPort USB – makes it easy to connect to most IT devices.
OptiPlex compatibility: The Dell 86 4K Interactive Touch Monitor features a unique design that's compatible with the optional Dell OptiPlex Micro, which integrates seamlessly into the back panel without the need of a separate power cable.
Easy manageability: The Dell Display Manager lets users easily organise screen layouts. RS232 and RJ45 interfaces allow you to manage the display remotely.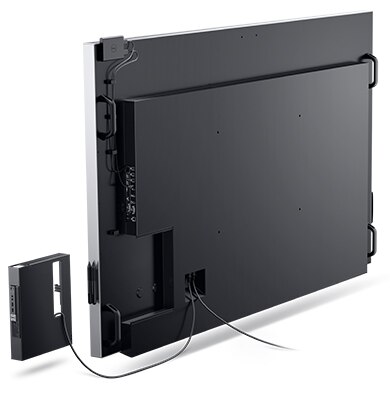 Connectivity Options
Ports and Slots:
1. Power Connector | 2. HDMI (x4) | 3. USB Type-B (x3) | 4. USB 3.0 (x4) | 5. DisplayPort | 6. Charging Port | 7. VGA | 8. RS232 Input | 9. Audio Input | 10. Audio Output | 11. RJ45 Ethernet
Cables Included:
1. Power Cable
2. DP-DP Cable
3. HDMI-HDMI Cable
4. VGA Cable
5. USB Cable
6. USB Upstream Cable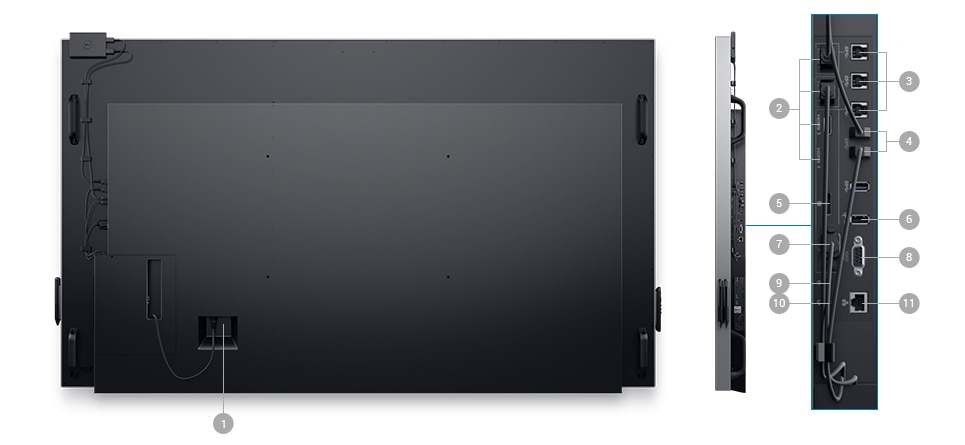 Logitech Rally Plus
ALL TOGETHER NOW
STUDIO-QUALITY VIDEO
With an Ultra-HD imaging system, Rally delivers brilliantly sharp video, outstanding color, and exceptional optical accuracy at resolutions up to 4K. Logitech RightLight™ technology optimizes light balance to emphasize faces and render natural-looking skin tones, even in dim or backlit conditions.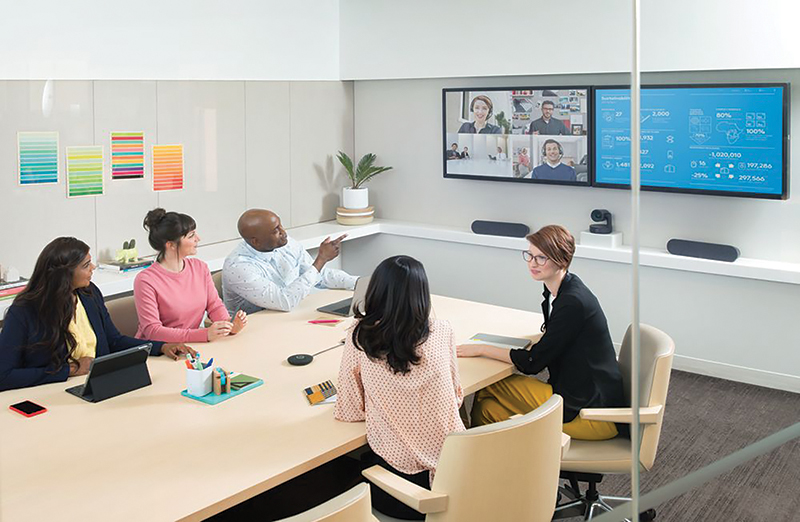 ADVANCED MODULAR AUDIO
Crystal-clear audio is essential for world-class video conferencing, and Rally excels in delivering sound that's natural, crisp, and highly intelligible. Logitech RightSound™ enhances voice clarity by suppressing background noise, auto-leveling voices, and focusing on active speakers. Exquisitely sensitive mic pods ensure that everyone in the meeting can be clearly heard while stand-alone speakers fill larger rooms with rich, life-like sound.
SLEEK INDUSTRIAL DESIGN
Every component in the Rally system features premium industrial design suitable for any professional setting. Even as Rally helps everyone look and sound great during video meetings, each part of the system looks great in its own right. The premium PTZ camera at the core of the system is elegantly finished in matte black with slate gray metal trim, complemented by sleekly designed audio components and accessories that look great in any room.

ENHANCED USER EXPERIENCE
Logitech RightSense is a suite of technologies built into Rally that automate a better user experience. RightSight™ perfectly auto-frames participants no matter their distance from the lens. RightLight prioritizes faces over environment to render natural-looking skin tones while RightSound enhances vocal clarity by suppressing background noise, auto-leveling voices, and focusing on active speakers to support better meetings —automatically!
Works with everything.
Logitech Meetup works with all leading video and audio conferencing solutions and is certified for use with Microsoft Teams, Google & Zoom. Be confident that your team can connect, whatever equipment they're using.
ADDITIONAL FEATURES
SEE EVERYONE, PERFECTLY FRAMED
Logitech RightSight camera control1 automatically moves and adjusts the lens to comfortably frame meeting participants in rooms of all shapes and sizes.
LET THE SUNSHINE IN
Even in meeting rooms with bright windows, Logitech RightLight technology with Wide Dynamic Range (WDR) prioritizes faces and human figures over objects and surfaces. The result is a balanced image that renders participants in flattering light with reduced glare and softer shadows, even in dim or backlit conditions
ADAPTIVE PAN, TILT AND ZOOM
Pan and tilt speeds automatically adapt to the level of zoom. The result: faster camera movement when zoomed out for quick framing and slower camera movement when zoomed in for more control.
FRONT OF ROOM AUDIO
Unlike tabletop speakerphones that decouple voices from video, Rally speakers are designed for placement at the front of the room. By aligning speakers with the display, a person's voice and video both come from the same place and never from behind you — so conversations feel more natural and lifelike.
StarTech Thunderbolt 3 Docking Station – 2 x USB-A 3.0/2.0, 1 x RJ45, 2 x HDMI
This Thunderbolt™ 3 docking station packs big performance into a cost-effective, compact mini dock, delivering essential connections for productivity. The bus-powered Thunderbolt 3 dock lets you connect to dual 4K HDMI displays, Gigabit Ethernet and two USB (Type-A) ports and for a flexible setup, the attached USB-C cable has an extended length of (7.9 in./ 20 cm).
Create a Dual-4K 60Hz Workstation
Great for editing 4K video or other Ultra HD tasks, this portable Thunderbolt 3 to HDMI dock supports 40Gbps of throughput and 4K resolution at 60Hz on dual HDMI monitors, through a single Thunderbolt 3 port. Run resource-demanding applications on two independent displays without draining system resources.
Connect your laptop to:
2x 4K HDMI displays (up to 4096 x 2160p @ 60Hz)
Easy Installation & Deployment  
Simply connect the TB3 dock to your laptop with included TB3 cable and start working immediately. No time-consuming driver installations are required.
The Ports You Need Most
To enhance your productivity, the Gigabit Ethernet port (with PXE Boot and Wake-on-LAN support) ensures reliable wired network access. A USB 3.0 Type-A port, with ample space around it, lets you connect a USB device, such as a flash drive, for easy file access. Connect another USB device using the USB 2.0 Type-A port.
The TB3DKM2HD is Thunderbolt Certified, and backed by a StarTech.com 3-year warranty and free lifetime technical support.
Applications
Review/edit images or media files on two 4K HDMI displays
Transfer a 4K movie in under 30 seconds
Ideal for shared or temporary work stations, such as hot desks (hoteling)