Product Overview
Epson EB-L200SW 3800 LUMENS WXGA SHORT-THROW PROJECTOR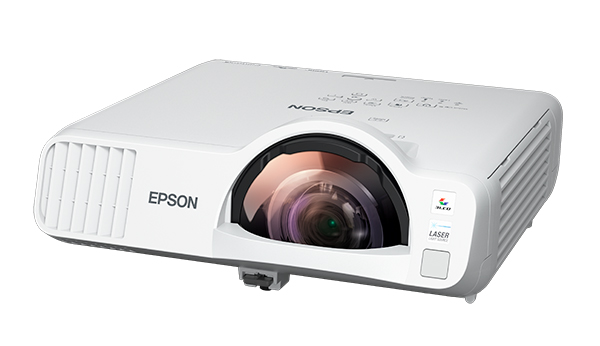 EPSON EB-L200SW Overview
EPSON EB-L200SW KEY FEATURES & BENEFITS
3x Brighter colours and reliable performance*

 – 3LCD, 3-Chip Technology. Look for both high colour brightness and high white brightness

Break through laser technology

 – provides up to 20,000 hours of virtually maintenance free operation, with the added benefits of higher image contrast and instant ON/OFF

Amazing Colour Brightness

 – up to 3,800 Lumens colour brightness and 3,800 Lumens white brightness

WXGA display up to 120″

 – for an optimal viewing experience and clear readability — up to 4 x bigger than a 60″ flat panel

Auto keystone

 – easily set up the projection with intuitive adjustment feature

Built-in wireless and Miracast 

– collaborate with various devices to display documents, files and photos from your iPad, iPhone, Chromebook and Android mobile devices with the Epson iProjection App

Versatile connectivity 

– easily integrate with any system using HDMI and the optional Epson Control box (ELPCB03)
*Colour brightness (colour light output) in brightest mode, measured by a third-party lab in accordance with IDMS 15.4. Colour brightness will vary depending on usage conditions. Top-selling Epson 3LCD projectors versus top-selling 1-chip DLP projectors based on NPD sales data for May 2017 – April 2018.
EPSON EB-L200SW Features
3LCD Technology
All Epson projectors are based on 3-chip LCD technology for amazing colour, incredible detail and solid reliability. 3LCD's 3-chip architecture dedicates an entire chip to process each primary colour – red, green and blue, continuously. Unlike single-chip technology that delivers colour sequentially, you get full-time colour. The result is vibrant, realistic images and video all delivered with 3LCD's true-to-life colour.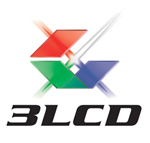 Up to 3x Brighter Colours with Epson Projectors*
Epson projectors use 3LCD Engines that have no colour wheel with a white segment and therefore don't force a trade-off between white and colour brightness.In fact, Epson projectors have up to 3x Brighter Colours than their leading competitive 1-chip DLP projectors*. If you are looking for business and education projectors or 720p home entertainment projectors, know that choosing Epson projectors means up to 3x brighter colours. If you are looking for 1080p home entertainment projectors, you consistently get 2x and up to 3x Brighter Colours than competitor 1-chip DLP projectors*.All Epson projectors list both White Brightness and Colour Brightness specifications, and all have high Colour Brightness.
*Colour brightness(colour light output) in brightest mode, measured by a third-party lab in accordance with IDMS 15.4. Colour brightness will vary depending on usage conditions. Top-selling Epson 3LCD projectors versus top-selling 1-chip DLP projectors based on NPD sales data for May 2017 – April 2018.

Laser Light Source
Experience astonishing quality and reliability with Epson's laser light source technology. The newly designed laser light source and advanced electrostatic filter offers fit and forget reliability to keep maintenance to a minimum.

High Visibility 3,800 Lumens WXGA
Powered by 3LCD technology and laser light source, the EB-L200SW is capable of producing white light and colour light output of 3,800 lumens in WXGA resolution, delivering captivating images up to 120″ (16:10) in meeting rooms or classrooms even during bright daylight.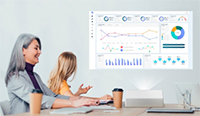 Zero Lamp Replacement
Powered by laser light source, the EB-L200SW doesn't require any lamp replacement. Requiring virtually no maintenance for up to 20,000 hours*, the EB-L200SW helps save money and time.
*No required maintenance for the light source for up to 20,000 hours. Approximate time until brightness decreases 50% from first usage. Measured by acceleration test assuming use of 0.04 – 0.20 mg/m3 of particulate matter. Time varies depending on usage conditions and environment. Replacement of parts other than the light source may be required in a shorter period.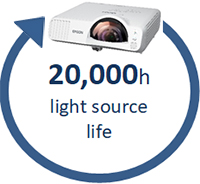 Big Screen from Short Distance
Project a large image up to 120″ from just 1.2m away. Maximize the visibility for everyone by enlarging the display size up to 4 times bigger than traditional panel size*. The EB-L200SW enables presenters to stand close to the board without glare in their eyes and shadows covering the screen.
*A 120" projection image is 4 times bigger than a 60″ flat panel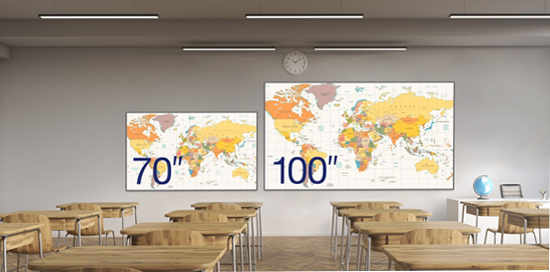 Large and Engaging Presentations, Even in Small Spaces
Enjoy flexible placement options with the EB-L200SW. The short throw projector allows you to maximize your office or classroom space by delivering large images with a short throw distance.

Quick Start Up
No need to wait longer for setting up a projector. The EB-L200SW displays an image in a few seconds the moment the projector is powered on unlike traditional lamp projectors. By saving time, you can quickly engage and spend more time collaborating with people.

Detail Enhancement
Get a crisper and sharper image with EB-L200SW by turning on detail enhancement. With advanced digital processing, visibility of image display such as small letters and patterns improves.
New Home Screen
Get up and running in a snap with an intuitive, user-friendly home screen. Select the content source and easily access frequently used functions such as screen sharing and more.
Auto Set-up
Simply place the projector on a table and the projector will automatically adjust its vertical keystone. Automatic display alignment makes set-up much easier and faster especially when you are on the go.

Intuitive Keystone
With horizontal keystone slider, the image can be adjusted quickly even when the projector is placed on the end of table.

Epson iProjection App
Wirelessly display content from your iOS or Android mobile devices as well as PCs, including Chromebook with the free Epson iProjection App*.
*To use Epson iProjection, the projector must be configured on a network. Epson projectors can be networked either through the Ethernet port on the projector (check model specifications for availability) or via a wireless connection.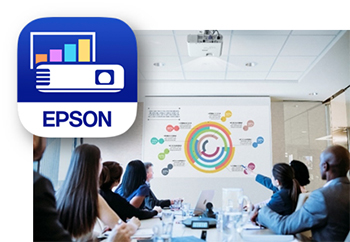 Moderator Function
Use the moderator function in the Epson iProjection App** to select a single moderator. Only the moderator can control the projected content.
**All the devices need to be wirelessly connected to the projector with Epson iProjection App. Moderator control is only available on Windows, macOS, iOS and Android devices.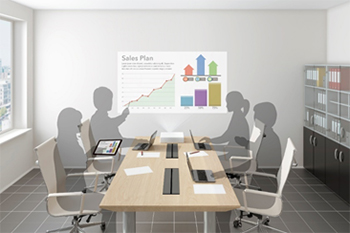 Miracast
Sharing information in the classroom has been made easier with Miracast*. Teachers can project their laptop or tablet screens without a cable connection and ensure high-resolution content can be viewed effortlessly.
*Laptops or mobile devices must support Miracast.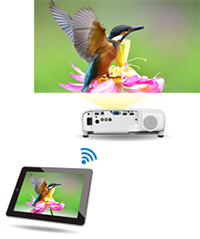 Collaborate with Multi-PC Projection
Epson's Multi-PC utility with Moderator device management software allows you to simultaneously display up to four devices on the screen over a network (wired or wireless). The moderator can drag and drop participants into or out of the four quadrants and control which device screens to display. Encourage and control collaboration; it's perfect for comparing ideas and content side by side.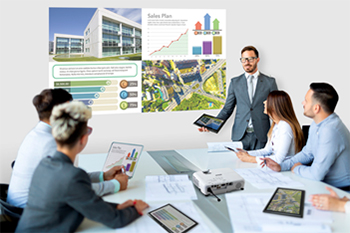 Choose Wall Mount, Ceiling Mount or Desktop
Versatile mounting options enable the EB-L200SW to be used in any environment. Mount your projector with the NEW short throw wall mount ELPMB64, ceiling mount with the ELPMB23, or simply place it on the table to comfortably accommodate a modern classroom environment or office presentation.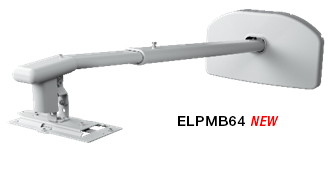 Simple replacement
For the previous owners of EB-500 series, the Epson EB-L200SW can be attached on the previous mount ELPMB45. You can upgrade old projectors to the latest laser projector with minimum cost and installation effort by simply replacing the projector on an existing mount*.
* The position of the projected image must be aligned by adjusting the ceiling or wall mount
ELPKS71 Carry Case
Bring the EB-L200SW anywhere with the portable carry case ELPKS71. The EB-L200SW is compact and powerful yet weighs only 4.5kg, making it easy and light to be carried around.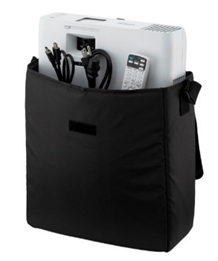 Control box – ELPCB03
Pair up the EB-200SW with the ELPCB03 t4o easily turn power on/off, freely control AV mute and speaker volume and select a device you want to project to a screen.

Epson Projector Management software
Manage multiple projectors with one device from a remote site. Epson Projector Management software allows you to check the status of multiple projectors through the network. You can also turn projectors on/off or set them to A/V mute simply by pressing the icon on this software. You can also schedule and execute firmware updates to connected projectors.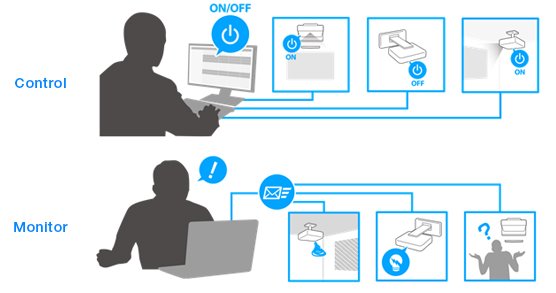 Epson Creative Projection App
With Epson Creative Projection app, you can create original, dazzling content to enliven rooms, product displays and spaces around you, anytime and anywhere. Available on iOS devices, such as iPhone and iPad, content can be projected on the wall with the ability to edit and preview content at the same time. With extensive preloaded templates, freely arrange and combine materials in the app any way you like. From simply uploading photos and movies from mobile device to making animated visual effects, instantly make your display content come to life without requiring a PC.

Epson Content Management Software
With Epson Content Management software, you can easily create playlists for signage content from a PC or a laptop. The ability to set schedule and register the shape filter settings gives you advanced control such as synchronised playback.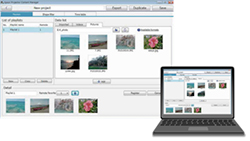 Technical Specifications
| | |
| --- | --- |
| PRODUCT NAME | EPSON EB-L200SW |
| PRODUCT CODE | V11H993053 |
| WHAT'S IN THE BOX | |
| | EPSON EB-L200SW, 1.8m HDMI cable, 5m power cable, Remote control, AA battery x 2 |
| TECHNOLOGY | |
| Projection System | Epson 3LCD, 3-chip technology |
| LCD Panel | 0.59-inch |
| OPTICAL | |
| Zoom | 1 – 1.35 (Digital Zoom) |
| Screen Size | 53″ to 120″ |
| Projection Distance | 87″ screen 0.91m |
| Throw Ratio | 0.48 (Zoom: Wide), 0.65 (Zoom: Tele) |
| Projection Lens F Number | 1.6 |
| Projection Lens Focal Length | 6.4mm |
| Focus Method | Manual Focus |
| Offset | 9.51:-1 |
| IMAGE | |
| Colour Light Output | 3,800 Lumens |
| White Light Output | 3,800 Lumens |
| Resolution | WXGA |
| Native Aspect Ratio | 16:10 |
| Contrast Ratio | 2,500,000:1 |
| Hours | 20,000 hours |
| Keystone Correction | Vertical: -15 to +15 degrees |
| CONNECTIVITY | |
| Input: Video | 1 x RCA (Yellow) |
| Input: Computer | 2 x Monitor in (D-sub 15pin), 1 x USB-B |
| Input: USB Memory Device | 1 x USB-A |
| Input: Digital | 2 x HDMI |
| Input: Audio | 1 x RCA (Red/White), 2 x Stereo mini jack |
| Input: Control | 1 x RS232C |
| Input: Epson USB Document Camera | 1 x USB-A |
| Network I/O: | RJ45 x 1 (100Mbps) |
| Wireless Connectivity | Included1 |
| Output: Video | D-sub 15 pin (black molding) |
| Output: Audio | Stereo mini jack x 1 |
| Speaker Output | 16W |
| ADVANCED FEATURES | |
| Projector Management Software | Yes |
| iProjection | Yes |
| Content Playback | Yes |
| Content Creative | Yes |
| Instant Off | Yes |
| Direct Power On/Off | Yes |
| Security | Kensington®-style lock provision |
| Colour Modes | Dynamic, Presentation, Cinema, sRGB, BlackBoard, Multi-Projection |
| GENERAL | |
| Dimensions D x W x H (excluding feet) | 337 x 325 x 90 mm |
| Weight | 4.5kg |
| Projector Warranty | 3 years or 20,000 hours (whichever comes first) |
| Power Consumption Normal/Eco | 254W/193W |
| Power Consumption: Standby | 2.0W |
| Noise Level | 36dB/26dB |
Additional Details
Product Manufactured by: Epson
Product Found in: Projector
Cackle Part Number: CEP019
Manufacturer Part Number: V11H993053