Product Overview
Startech VGA Switch – 4 Port with Audio (VS410RVGAA)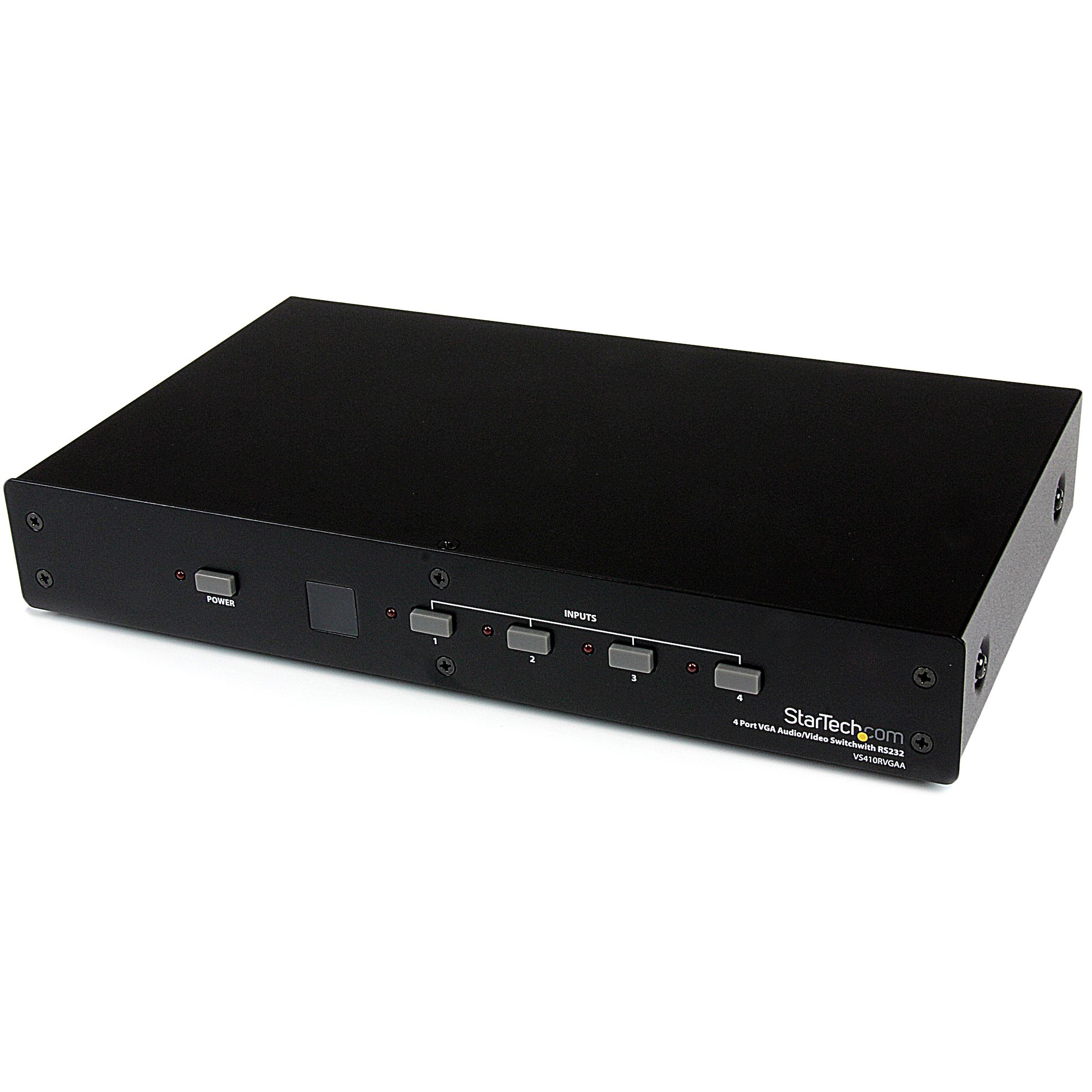 Startech VGA Switch Description
Startech VGA Switch – 4 Port with Audio (VS410RVGAA) – The VS410RVGAA 4 Port VGA Video Audio Switch with RS232 control lets you switch between four separate VGA signals, as well as the corresponding audio, for output to a single display or projector at resolutions up to 1920×1200 (PC) or 1080p (HDTV).
An ideal solution for situations where VGA and audio input ports are scarce, the VGA switch eliminates the hassle of having to swap out connections to your display and audio receiver, while letting you select the video source quickly and easily at the push of a button.
The VGA switch also features convenient remote switching capabilities through either RS232 serial remote control, or the included IR remote control – allowing you to switch between VGA input signals from a distance and in turn providing a convenient addition to presentation displays, trade shows, security environments and more.
Backed by a StarTech.com 2-year warranty and free lifetime technical support.
Perfect for use in boardroom settings to let visitors connect to your display or projector

Great for use in presentations, trade shows, conferences, retail, and entertainment applications

Excellent solution for connecting and switching between multiple PC/HDTV's to one display

Saves duplicate equipment costs by connecting up to 4 PC's/HDTV with audio devices to one monitor, TV, or projector

Includes front panel push-buttons, an easy-to-use remote control and RS232 PC control for versatile switching between devices
Feature
Supports resolutions up to 1920×1200 (1080p)

Supports VGA Video bandwidth of 650 MHz

Includes an easy-to-use remote control for easy switching between devices

RS232 interface provides you with remote/off-site control

Front panel push-buttons

3.5mm audio connections
Technical Specifications
4 – VGA (15 pin, High Density D-Sub)
4 – 3.5 mm Mini-Jack (3 Position)
1 – VGA (15 pin, High Density D-Sub)
1 – 3.5 mm Mini-Jack (3 Position)
---
AV Input: VGA, 3.5 mm Audio
AV Output: VGA, 3.5 mm Audio
---
Shipping (Package) Weight: 4.7 lb [2.1 kg]
Package Length: 12.7 in [32.2 cm]
Package Width: 2.7 in [68.0 mm]
Package Height: 12.9 in [32.7 cm]
---
Maximum Analog Resolutions: 1920×1200 (PC), and 1080p (HDTV)
Bandwidth: 650 MHz (-3dB) max
---
Weight of Product: 3.3 lb [1.5 kg]
Product Length: 6.5 in [16.5 cm]
Product Width: 11.3 in [28.7 cm]
Product Height: 1.6 in [4.0 cm]
---
Power Source: AC Adapter Included
Input Voltage: 100 – 240 AC
Center Tip Polarity: Positive
Power Consumption (In Watts): 5
---
1 – Universal Power Adapter (US/UK/EU/AU)
Additional Information
Product Manufactured by: Startech
Product Found in: AV Switches
Cackle Part Number: 503953
Manufacturer Part Number: VS410RVGAA