Brother Colour Ink Cartridges 3PK – LC233CL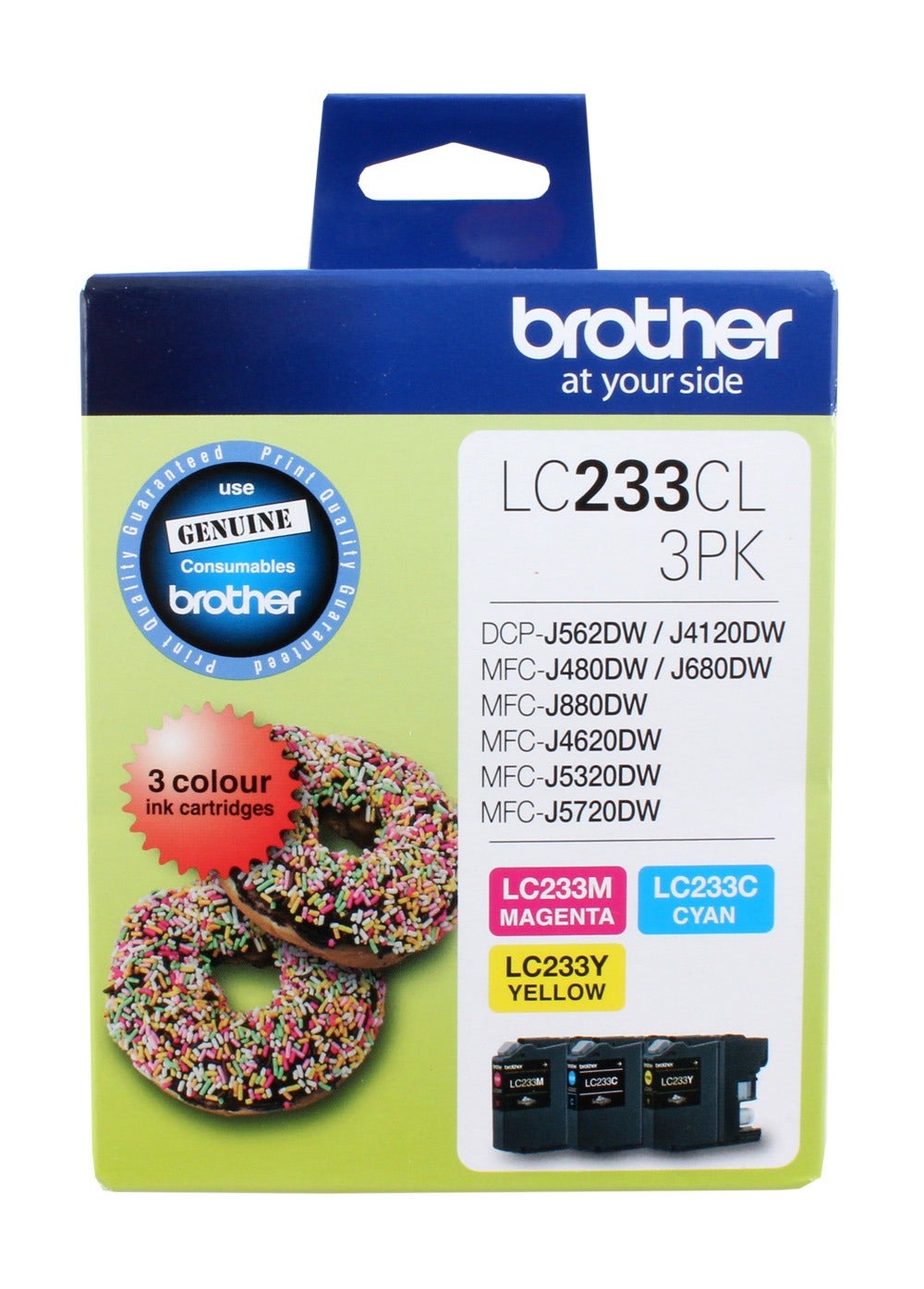 Brother Colour Ink Cartridges Description
Brother Colour Ink Cartridges 3PK – LC233CL3PK
Ensure that replacing your genuine Brother ink cartridges is as hassle-free and affordable as possible by purchasing this LC233CL3PK Multipack. The pack contains cyan, yellow and magenta LC223 cartridges, all designed to help you get the best from your Brother printer. 
Key features
Each cartridge prints 550 pages in accordance with ISO/IEC 24711
High quality genuine Brother cartridge
Prevents waste to save you paper, time and money
Though using cheaper, non-branded cartridges might save you money in the short-term, they're not as compatible with your machine. It's possible that using these often-inferior products could cause printing problems and even damage your printer – so why take the risk?
By choosing this genuine LC233CL3PK Ink Cartridge Multipack, you'll ensure that your printer continues to perform at its very best and also that any warranty you hold remains valid, providing you with extra peace of mind all round.
Technical Specifications
For the following Printers
Brother DCPJ4120DW
Brother DCPJ562DW
Brother MFCJ4620DW
Brother MFCJ5320DW
Brother MFCJ480DW
Brother MFCJ5720DW
Brother MFCJ680DW
Brother MFCJ880DW
The LC233CL3PK Brother C/M/Y Colour 3 Pack has a life of approximately 500 pages per colour. Cartridge yield is declared in accordance with ISO/IEC 24711.
Additional Information
Product Manufactured by: Brother
Product Found in: Brother Ink Cartridges
Cackle Part Number: 501754
Manufacturer Part Number: LC233CL3PK