Product Overview
ASUS ROG STRIX XG43UQ 43″ 4K UHD Gaming Monitor
ASUS ROG STRIX XG43UQ Description
ASUS ROG Strix XG43UQ HDMI 2.1 Gaming Monitor — 43-inch 4K UHD (3840 x 2160), 144 Hz, 1ms MPRT, HDMI® 2.1, AMD FreeSync™ Premium Pro technology, Display Stream Compression (DSC), Extreme Low Motion Blur (ELMB) Sync, DisplayHDR™ 1000, DCI-P3 90%, Shadow Boost, Remote Control
43ʺ 4K UHD (3840 x 2160) DSC gaming monitor with 144 Hz refresh rate for super-smooth gaming visuals
Two HDMI® 2.1 ports enable mind-blowing native 4K 120 Hz gaming on the latest consoles without chroma subsampling
FreeSync™ Premium Pro offers smooth HDR visuals at the highest settings while maintaining low latency
ASUS Extreme Low Motion Blur Sync (ELMB Sync) technology enables ELMB together with variable refresh rate technology simultaneously to eliminate ghosting and tearing for super-sharp, high-frame rate gaming
High Dynamic Range (HDR) technology with DisplayHDR™ 1000 certification and professional-grade 90% DCI-P3 color gamut ensures exceptional contrast and color performance
Matte anti-glare panel reduces distracting reflections and glare to improve the viewing experience when gaming or watching movies
Full HD(1920 X 1080)@120Hz output on PS5; Full HD &1440P(2560 x 1440)@120Hz VRR output on Xbox Series X/S
ASUS ROG STRIX XG43UQ Features
WORLD'S FIRST 43-INCH HDMI 2.1 GAMING MONITOR
ROG Strix XG43UQ is the world's first 43 inch HDMI® 2.1 gaming monitor, delivering 4K UHD visuals and a 1 ms moving picture response time (MPRT) for superfast gaming on a big screen. Featuring Display Stream Compression (DSC) and AMD FreeSync™ Premium Pro technology, Strix XG43UQ enables supersmooth 4K 120 Hz gaming on the latest consoles via HDMI 2.1. Plus, a 90% DCI-P3 color gamut and DisplayHDR™ 1000 certification ensure true-to-life colors.
SUPERFAST GAMING WITH HDMI 2.1
HDMI 2.1 enables mind-blowing gaming experience on the latest consoles, providing gamers with native 4K UHD visuals at astounding refresh rates of up to 120 Hz without chroma subsampling.
GOING BIG WITH NEXT-GEN GAMEPLAY
It gets even better on PC, with up to 4K 144 Hz visuals when powered by the latest graphics cards. DSC technology supports 4K UHD visuals via a single DisplayPort 1.4 connection by compressing and decompressing each frame on the fly, with no loss in image quality.
Learn more about DSC


*To enable 4K resolution at 144 Hz with DSC, an NVIDIA® GeForce® RTX 20 series, AMD Radeon™ RX 5700 or higher graphics card is required. For additional information about enabling DSC, contact your graphics card manufacturer.
REMOTE CONTROL
A bundle remote control let users adjust monitor settings from a distance.
ANTI-GLARE PANEL
The matte anti-glare panel reduces distracting reflections and glare, allowing gamers to focus on what's happening on screen.
10-WATT STEREO SPEAKERS
ASUS SonicMaster technology enhances gaming experiences , delivering incredible hi-fi grade audio for greater levels of immersion.
GAMEFAST INPUT TECHNOLOGY
Built-in GameFast Input technology minimizes input lag so gaming inputs are always in sync with the action.
ULTRAFAST 144HZ REFRESH RATE AND 1MS MPRT
From fast-paced first-person shooters to real-time strategy, play the latest games at their highest graphics settings at a buttery-smooth 144 frames per second with near-instantaneous 1 ms moving picture response time (MPRT).
AMD FREESYNC PREMIUM PRO FOR SMOOTH GAMEPLAY
Built-in FreeSync Premium Pro technology ensures that ROG Strix XG43UQ delivers supersmooth, low-latency visuals that are brighter and have better contrast. This technology uses low-latency processing for both standard and HDR content to eliminate the input lag that's typically associated with HDR content.
HIGH DYNAMIC RANGE (HDR) WITH EXCEPTIONAL COLORS
A DCI-P3 90% color gamut and outstanding color contrast ensure ROG Strix XG43UQ meets DisplayHDR 1000 certification standards. Experience true-to-life colors along with the brightest whites and darkest black hues.
Three HDR modes ensure optimal visuals for any viewing scenario.
IN−GAME ENHANCEMENTS
Shadow Boost
ASUS Dynamic Shadow Boost technology automaitcally clarifies dark areas of the game without changing other areas, improving overall viewing while also making it easier to spot enemies hidden in dark areas of the map.
EXTREME LOW MOTION BLUR (ELMB) SYNC
With ELMB Sync, low-motion-blur technology and adaptive-sync can be enabled simultaneously to eliminate ghosting and tearing for super-sharp, high-frame rate gaming.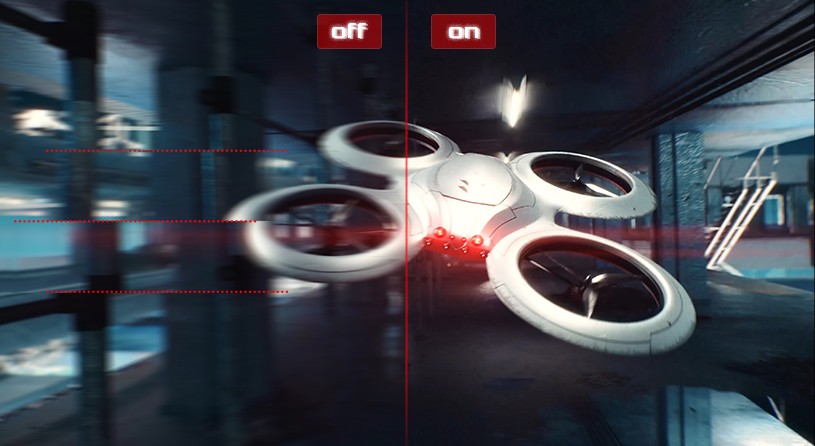 The ASUS-exclusive, integrated GamePlus hotkey offers in-game enhancements that help you get more out of your game. This function is co-developed with input from pro gamers, allowing them to practice and improve their gaming skills.
ASUS GameVisual Technology has seven pre-set display modes to optimize visuals for different types of content. This unique feature can be easily accessed through a hotkey or the on-screen display settings menu.
Racing – Reduces input lag, making it ideal for racing games when G-SYNC technology is on.
Cinema – Cools and saturates colors for more immersive movies.

RTS/RPG – Enhances color saturation and contrast sharpness to give you better, brighter colors and detailed visuals for real-time strategy (RTS) or RPG games.

GSYNC eSports – High contrast brightens up darker areas and shadows onscreen to help gamers spot hidden enemies.

sRGB – Perfect for surfing the web or editing photos.

Scenery – Provide more contrast gradations makes grass greener and skies bluer so it's ideal for slide shows.

ASUS DISPLAY WIDGET SOFTWARE
DisplayWidget is an intuitive software utility that lets users tweak the settings of the monitor. Adjustments to these utilities can be made via the On Screen Display (OSD) menu or the navigational joystick, but ASUS DisplayWidget makes accessing and using these various settings much faster and easier.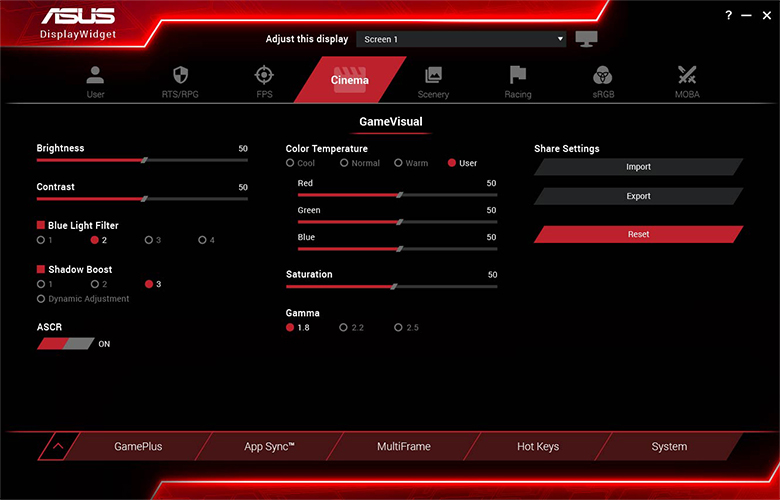 App Sync™ lets you assign specific ASUS GameVisual modes to individual applications and game titles to make sure the program you are using is in your preferred mode. You also have the option of changing these assigned settings quickly.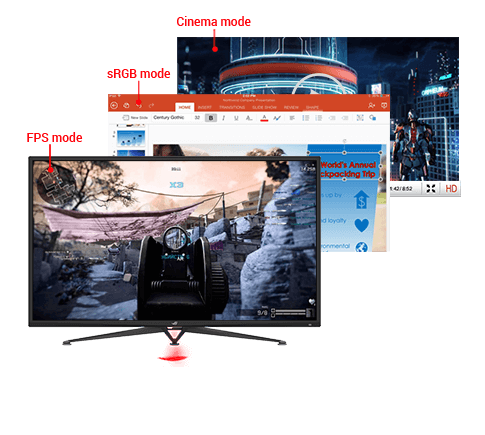 SHARABLE DISPLAY SETTING PARAMETER
All customized GameVisual settings can be saved to an AXML file format that can be shared with other same monitor users.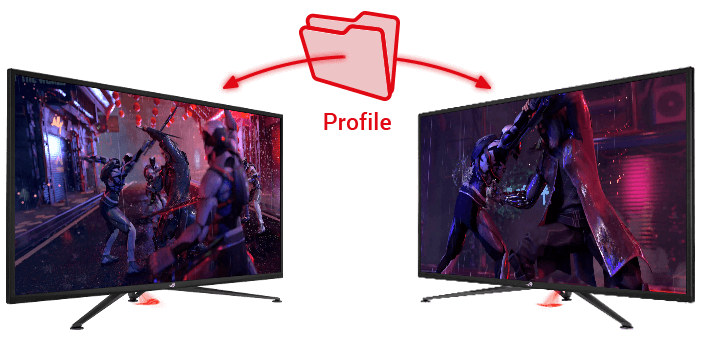 MultiFrame allows users to organize multiple windows on desktop and to arrange them in an orderly way so that they don't overlap on a big screen.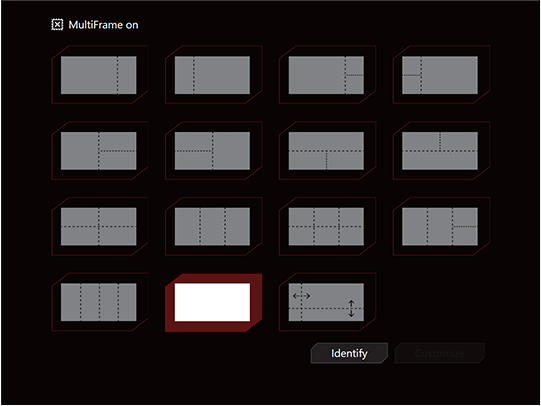 Hot Keys allow users to quickly change the settings by typing a certain key combination.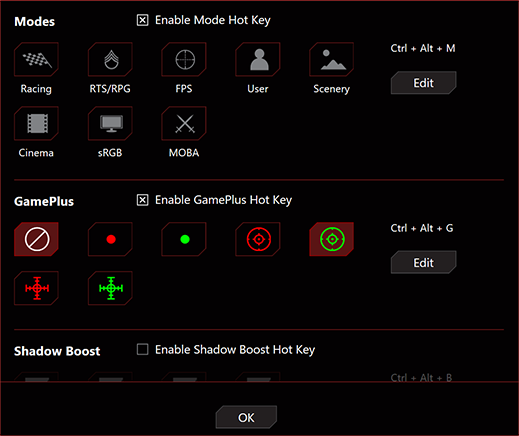 Flicker-Free technology reduces flicker to minimize eyestrain for improved comfort when you're embroiled in long gaming sessions.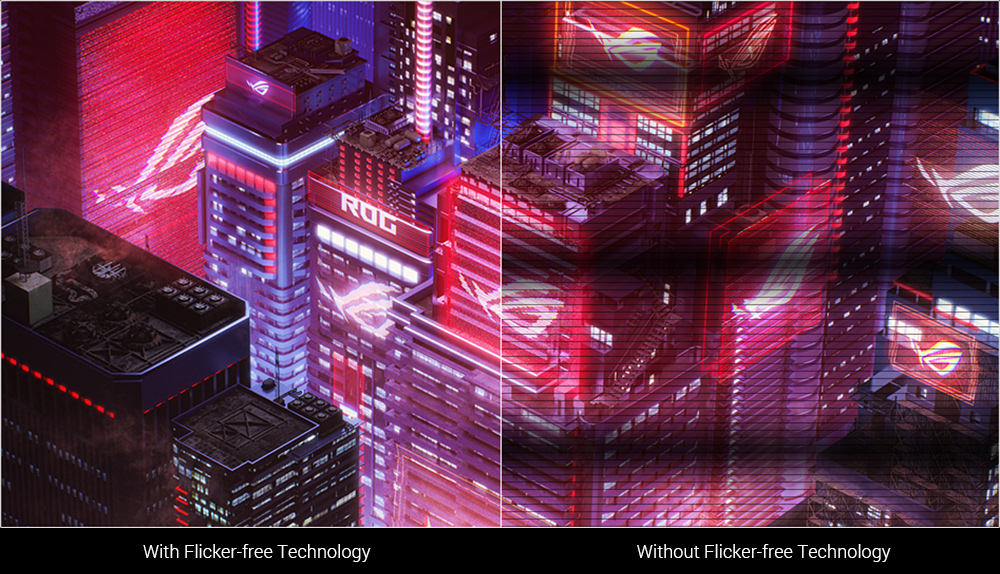 Ultra-Low Blue Light technology
ASUS Ultra-Low Blue Light technology reduces the amount of potentially harmful blue light emitted by the display. Four different filter settings are available to control the amount of blue light reduction.
LEVEL 0                                                                                          LEVEL 1
LEVEL 2                                                                                         LEVEL 3
LEVEL 4
PICTURE-IN-PICTURE AND PICTURE-BY-PICTURE HOTKEYS
ROG Strix XG43UQ supports picture-in-picture mode with a main screen and inset window, along with a picture-by-picture mode that divides the monitor into segments, giving you the option to view multiple sources simultaneously.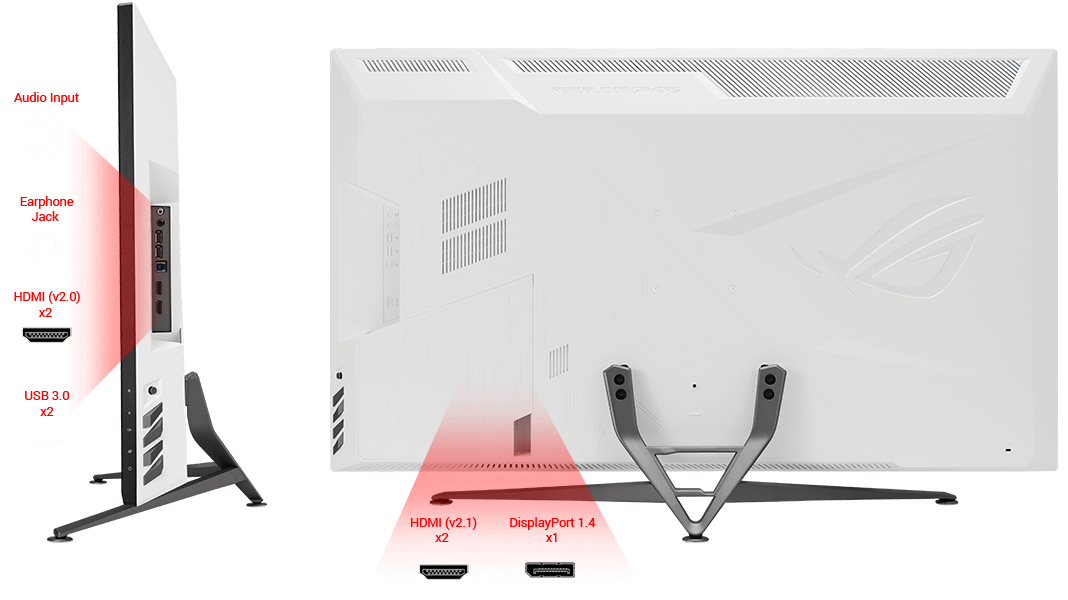 Exclusive ASUS Aura Sync* lighting technology provides ambient lighting that can be synchronized with other Aura-enabled components and peripherals.
*Download the latest Aura Sync software here.
ASUS ROG STRIX XG43UQ Technical Specifications
Display
Color Space (DCI-P3) :
90%
Color Space (sRGB) :
125%
True Resolution :
3840×2160
Display Viewing Area (HxV) :
941.184 x 529.416 mm
Display Surface :
Non-Glare
Brightness (Typ.) :
750cd/㎡
Brightness (HDR, Peak) :
1,000 cd/㎡
Contrast Ratio (HDR, Max) :
1,000,000:1
Viewing Angle (CR≧10) :
178°/ 178°
Display Colors :
1073.7M (10 bit)
HDR (High Dynamic Range) Support :
HDR10
Refresh Rate (max) :
144Hz
Video Feature
Trace Free Technology :
Yes
VRR Technology :
FreeSync™ Premium Pro
I/O Ports
USB Ports :
Yes(2 ports USB 3.0)
Audio Features
Signal Frequency
Digital Signal Frequency :
DP:275 ~275 KHz (H) /48 ~144 Hz(V)
HDMI v(2.0) : 30 ~135 KHz (H) /48 ~60 Hz(V)
HDMI v(2.1) : 30 ~135 KHz (H) /48 ~144 Hz(V)
Power Consumption :
<48W*
Power Saving Mode :
<0.5W
Voltage :
100-240V, 50/60Hz
Mechanical Design
VESA Wall Mounting :
100x100mm
Lighting effect (Aura) :
Aura Sync
Dimensions (Esti.)
Phys. Dimension with Stand (WxHxD) :
974.58 x 631.31 x 301.5 mm
Phys. Dimension without Stand (WxHxD) :
974.58 x 570.62 x 74.6 mm
Box Dimension (WxHxD) :
1069 x 722 x374 mm
Weight (Esti.)
Net Weight with Stand :
15.3 Kg
Net Weight without Stand :
14.2 Kg
Accessories (vary by regions)
Color pre-calibration report
HDMI Ultra High Speed Cable
Certificate
Additional Details
Product Manufactured by: Asus
Product Found in: Asus Monitors
Cackle Part Number: CAS226
Manufacturer Part Number: 90LM0590-B01110