Product Overview
Gigabyte 1TB SSD – AORUS Gen4 PCIe 7000s (GP-AG70S1TB)
Gigabyte 1TB SSD Description
Gigabyte 1TB SSD – AORUS Gen4 PCIe 7000s (GP-AG70S1TB) – The 2nd generation PCIe 4.0 controller PS5018-E18 deliver sequential read/write up to 7GB/s with 3D TLC NAND Flash. The E18 controller is built with the advanced 12nm process ensuring sufficient computing power. Also it supports up to 8 NAND Flash channel with 32CE, DDR4 SLC caching and meets NVMe 1.4.
PCIe 4.0×4, NVMe 1.4 Interface
DDR4 DRAM cache
8 CH with 32 CEs
Phison 4th Gen LDPC & RAID ECC
Support AES-256 Encryption
Thermal Throttle Protection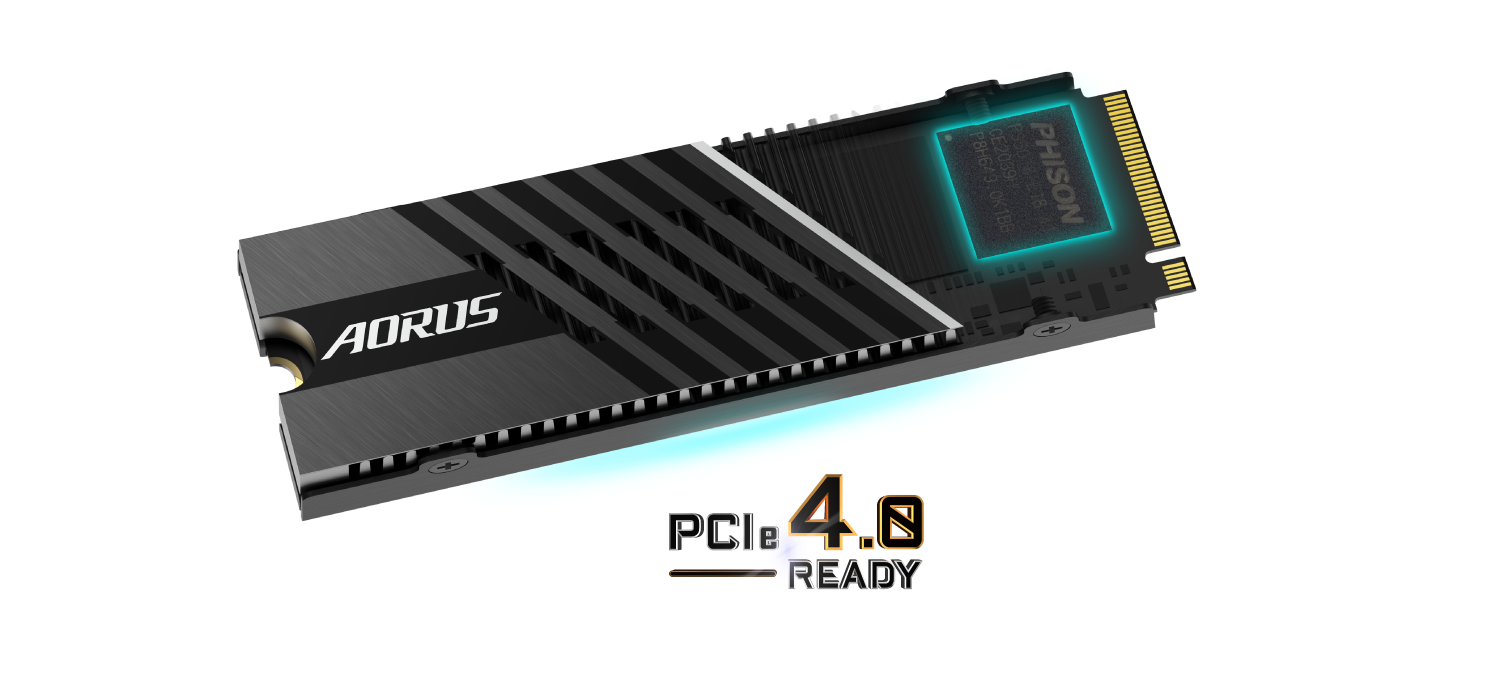 Feature
NAND Flash Selected for High Quality and Performance
The 3D TLC NAND Flash(96L) is operating at 1200MT/s, Which is 50 % more than the prevision version that leads to better performance.
Xtreme Storage Performance
With 2nd generation PCIe 4.0 controller E18, AORUS Gen4 7000s SSD delivers blazing speeds: up to 7,000 MB/s for sequential read, and up to 5,500MB/s sequential write. Sequential Read performance of PCIe 4.0 SSDs is up to 2 times faster than the PCIe 3.0 SSDs. Get ready to enter the next generation of computing with faster and smoother, gaming, streaming, and graphics intensive rendering.
Optimized Aluminum Heat Spreaders with Nanocarbon Coating for 20% Cooler
Challenged passive cooling to maximize surface area for heat dissipation with advanced thermal technology Nanocarbon coating. Applied with dual side high conductivity thermal pad ensures the heat transferring to the heatsink. The 7mm height heatsink is compatible with all the M.2 slots including the one under graphic card.
Efficient Heat Spreader Design
Compared with regular heat spreader, the new high efficient heat spreader improves thermal dissipation to extend 46% more time running at high speed. In addition, compared to the one without heatsink, AORUS 7000s Gen4 SSD running 5 times longer at 7GB/s. Enjoy the smoother & upgraded storage performance.
Why is keeping an SSDs at lower temperatures so important?
Higher working temperature may cause data loss. The degradation factor of data loss could be a hundred times higher. With Heat Spreaders, the AORUS Gen4 7000s SSD can operate at lower working temperatures to improve data storage reliability. Furthermore, SSDs can running at extreme performance longer.
AORUS Gen4 7000s SSD meets SSD expansion requirements of PS5
AORUS Gen4 7000s SSD meets the required performance and dimensions of PS5 M.2 SSD.
According to the expansion requirements of PS5, SSD Sequential read speed needs to be up to 5,500MB/s. However, AORUS Gen4 7000s SSD delivers blazing speeds: up to 7,000 MB/s for sequential read, which is better than regular Gen4 SSDs.
Adopting by Aluminum Heat Spreaders with Nanocarbon Coating, AORUS Gen4 7000s SSD improves thermal dissipation and helps to prevent throttling.
Looking for the best partner for your PS5? Enjoy the thrilling gaming experience by applied AORUS Gen4 7000s SSD to your PS5 to expand more capacities.
*Read speed test result by PS5 M.2 evaluating process.
SSD Tool Box
The newly updated SSD Tool Box is a software that gives users an overview of the SSD Status and various aspects such as model name, FW version, health condition and sensor temperature. Moreover, users can clear all the data with the Secure Erase function. You can download the SSD Tool Box from the link.
Composition
Technical Specifications
PCI-Express 4.0 x4, NVMe 1.4

Mean time between failure (MTBF)

Power Consumption (Active)

Average: R : 6.6W, W : 6.5W

1. Limited 5-years or 700TBW.
2. Limited warranty based on 5 years or 700TBW, whichever comes first. (*TBW is evaluated by JEDEC workload standard. )
*TBW (Terabyte Written): Terabytes Written is the total amount of data that can be written into a SSD before it is likely to fail.
3. When the usage of an NVME SSD as indicated by the "Percentage Used" (SMART ID: 05) in SMART page of "GIGABYTE SSD toolbox" reaches 100 means out of warranty. (A new unused product will show the number of 0)

• Test system configuration: configuration may vary by models, we will choose the latest platform for verification.
• Performance may vary based on SSD's firmware version and system hardware & configuration. Sequential performance measurements based on CrystalDiskMark and IOmeter 1.1.0.
• Speeds based on internal testing. Actual performance may vary.
• 1GB = 1 billion bytes. Actual useable capacity may vary.
* The entire materials provided herein are for reference only. GIGABYTE reserves the right to modify or revise the content at anytime without prior notice.
* Advertised performance is based on maximum theoretical interface values from respective Chipset vendors or organization who defined the interface specification. Actual performance may vary by system configuration.
* All trademarks and logos are the properties of their respective holders.
* Due to standard PC architecture, a certain amount of memory is reserved for system usage and therefore the actual memory size is less than the stated amount.
Additional Information
Product Manufactured by: Gigabyte
Product Found in: PCIe NVMe SSD
Cackle Part Number: 501033
Manufacturer Part Number: GP-AG70S1TB