Product Overview
ASUS ROG STRIX Z690-F GAMING WIFI ATX Motherboard For Intel 12th Gen – LGA1700, DDR5, PCIe 5.0, 4x M.2 Slots, HDMI, DisplayPort, USB3.2 Type-C, LAN, WiFi 6E (90MB18M0-M0UAY0)
ASUS ROG STRIX Z690-F GAMING WIFI ATX Motherboard For Intel 12th Gen – LGA1700, DDR5, PCIe 5.0, 4x M.2 Slots, HDMI, DisplayPort, USB3.2 Type-C, LAN, WiFi 6E (90MB18M0-M0UAY0).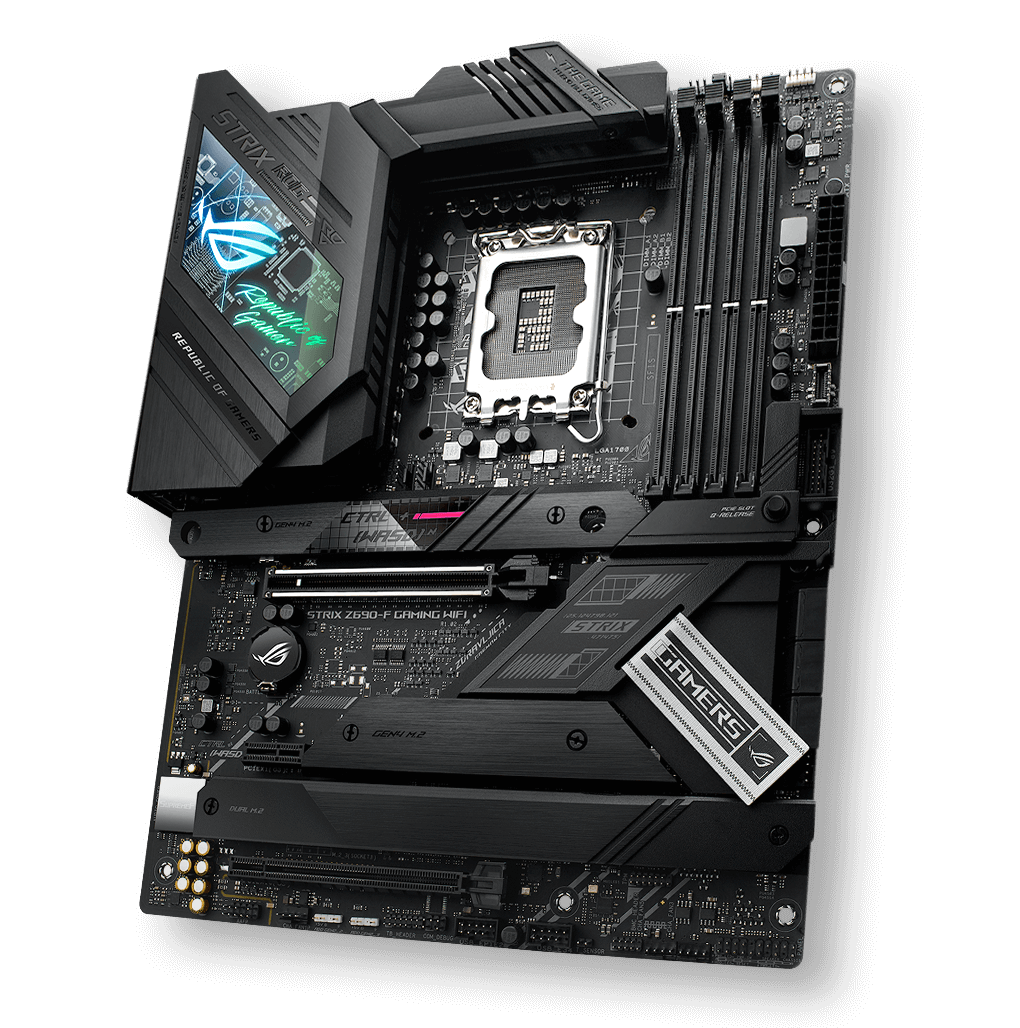 ASUS ROG STRIX Z690-F GAMING WIFI ATX Motherboard Description
ROG STRIX Z690-F GAMING WIFI
ROG Strix Z690-F Gaming WiFi offers premium-grade power delivery and cooling to unleash the full force of 12th Gen Intel® Core™ processors. Meanwhile, cutting-edge performance arrives courtesy of a PCIe® 5.0 expansion slot and DDR5 memory support. Plus, ASUS-exclusive intelligent controls help optimize PC settings, while onboard WiFi 6E brings lightning-fast data transfers to an endless variety of scenarios. On top of all that, DIY-friendly innovations help simplify the PC building process to get to you up and running smoothly.
All-Round Performance
ROG Strix Z690-F Gaming WiFi is armed with all the essentials you need to create a gaming PC with top-tier performance. Heavy-duty power delivery and optimized cooling provide the weapons you need to push any gaming builds to its limits. Intelligent controls enable easy management of overclocking, cooling and networking settings. And Two=Way AI Noise Cancellation helps ensure crystal-clear in-game communication.
POWER DESIGN
Digital power control and an array of power stages provide the muscle needed to control the latest Intel CPUs.
Integrated I/O Cover & VRM Heatsinks
Two thick VRM heatsinks connected by a heat pipe and bonded to a pre-mounted metal I/O shield provide ample surface area and mass to handle the power needs of high-performance 12th Gen Intel processors.
Thermal Pads
Specially engineered thermal pads efficiently transfer heat from the inductor and phase array to the heatsink.
COOLER BY DESIGN
ROG Strix Z690 motherboards feature comprehensive cooling options that are configurable via the Fan Xpert 4 tool in Armoury Crate or within the UEFI BIOS.
CPU fan headers
A dedicated pair of PWM/DC fan headers for CPU coolers
AIO pump fan header
A dedicated PWM/DC header for self-contained water-cooling setups
Leading Connectivity
ROG Strix Z690-F Gaming WiFi delivers wickedly fast connectivity for supersmooth online experience and ultrafast data transfer. Add alongside those perks, we've managed to cram in an advanced audio solution that allows you to pick out the smallest cues and home in on your opponents.
DDR5 Overclocking Strength – ASUS Enhanced Memory Profile
Comprehensive memory tuning options are the cornerstone of ROG motherboards. For DDR5, the Strix Z690 lineup breaks performance limits by providing a stacked suite of overclocking parameters for not only high-speed kits, but even entry-level memory modules that have a locked power management IC (PMIC).
New to overclocking? Click here to learn about the ASUS-exclusive AEMP technology
A dedicated circuit on the motherboard safely circumvents DDR5 memory PMIC restrictions, allowing you to step past the default 1.1-volt limit and push frequency and timings to the max.
Ordinarily, a restricted PMIC that has been unlocked requires the system to be fully power-cycled each time memory voltage is adjusted. ROG motherboards leverage onboard hardware and firmware to cleverly work around this irksome limitation, enabling voltage adjustments to be applied through the same soft system-reset process employed for previous generations of DDR memory.
WIFI 6E (802.11 AX)
Onboard WiFi 6E technology takes advantage of the newly available radio spectrum in the 6 GHz band. It provides up to three times the bandwidth of the 5 GHz band and up to seven 160 MHz bands to deliver ultrafast wireless networking speeds and improved capacity as well as better performance in dense wireless environments.
*WiFi 6E availability and features are dependent on regulatory limitations and co-existence with 5 GHz WiFi. Learn more about the ASUS WiFi 6E ecosystem.
Intel 2.5 Gb Ethernet
Onboard 2.5 Gb Ethernet gives your wired connection a boost, delivering up to 2.5X the speed of standard Ethernet connections for faster file transfers, low-lag gaming and high-resolution video streaming.
SUPREMEFX
ROG SupremeFX is a unique blend of hardware and software that provides superior audio. In ROG Strix Z690-F Gaming WiFi, SupremeFX features the ALC4080 codec to increase playback resolution from 192 kHz to 384 kHz across all channels. The front-panel output is streamed through a highly integrated Savitech amplifier that's capable of driving of a wide variety of gaming headsets and high-fidelity headphones.
Play In Style
Pair ROG Strix Z690-F Gaming WiFi with other products from the diverse ROG ecosystem to create a fully customized gaming setup that reflects your personal style.
UNDENIABLY ROG STRIX
A specially illuminated acrylic display on the I/O cover gives the illusion that the circuit board is visible beneath an RGB ROG logo. Meanwhile, touches of brushed metal throughout the motherboard, plus the stitched fabric of the ROG Strix Cable organizer, deliver a variety of carefully crafted surface textures. Last but not least, a special lighting pattern built into the motherboard finishes off a colorful tour of the ROG worldview.
PCIE SLOT Q-RELEASE
A physical button unlocks the first PCIe slot's security latch with one tap, greatly simplifying the process of detaching a PCIe card from the motherboard when it's time to upgrade to a new GPU or other compatible device.
CERTIFIED COMPATIBILITY
ROG Strix motherboards undergo an extensive certification program to ensure compatibility with the widest range of components and devices. Our Qualified Vendor List (QVL) provides a reference for identifying guaranteed-compatible components and memory.
ASUS AIO coolers are also compatible with a wide variety of CPUs, up to and including 12th Gen Intel processors, giving you ultimate flexibility to cool the CPU that fits your needs.
ASUS ROG STRIX Z690-F GAMING WIFI ATX Motherboard Feature
Ready for 12th Gen Intel® Core™, Pentium® Gold and Celeron® processors
Optimal Power Solution: 16+1 power stages with 8+8 ProCool II power connectors, high-quality alloy chokes and durable capacitors to support multi-core processors
Optimized Thermal Design: Integrated I/O cover and VRM heatsinks with high conductivity thermal pad, L-shaped heatpipe, four onboard M.2 heatsinks and M.2 backplate for the M.2_1 slot
High-performance Networking: On-board Intel® WiFi 6E (802.11ax) and Intel® 2.5 Gb Ethernet with ASUS LANGuard
Best Gaming Connectivity: Supports HDMI® 2.1 and DisplayPort™ 1.4 output, four M.2 slots, as well as USB 3.2 Gen 2×2 Type-C®
Intelligent Control: ASUS-exclusive AI Overclocking, AI Cooling, AI Networking and Two-Way AI Noise Cancelation to simplify setup and improve performance
DIY Friendly Design:  PCIe® Slot Q-Release, M.2 Q-Latch, ROG Reusable Cable Organizer, pre-mounted I/O shield, BIOS FlashBack™ button, and Clr CMOS button
Unmatched Personalization: ASUS-exclusive Aura Sync RGB lighting, including an RGB header and three addressable Gen 2 headers
Industry-leading Gaming Audio: ALC4080 with Savitech SV3H712 amplifier, along with DTS® Sound Unbound and Sonic Studio III
Renowned Software: Bundled AIDA64 Extreme 60 days free trial version and intuitive UEFI BIOS dashboard with integrated MemTest86
Technical Specifications
| | |
| --- | --- |
| CPU | Intel® Socket LGA1700 for 12th Gen Intel® Core™, Pentium® Gold and Celeron® Processors |
| | Supports Intel® Turbo Boost Technology 2.0 and Intel® Turbo Boost Max Technology 3.0** |
| | * Refer to www.asus.com for CPU support list. |
| | ** Intel® Turbo Boost Max Technology 3.0 support depends on the CPU types. |
| Chipset | Z690 |
| Memory | 4 x DIMM, Max. 128GB, DDR5 6400(OC)/ 6200(OC)/ 6000(OC)/ 5800(OC)/ 5600(OC)/ 5400(OC)/ 5200(OC)/ 5000(OC)/ 4800 Non-ECC, Un-buffered Memory* |
| | Dual Channel Memory Architecture |
| | Supports Intel® Extreme Memory Profile (XMP) |
| | OptiMem II |
| | * Supported memory types, data rate(Speed), and number of DRAM module vary depending on the CPU and memory configuration, for more information refer to www.asus.com for memory support list. |
| Graphics | 1 x DisplayPort** |
| |  1 x HDMI®*** |
| | * Graphics specifications may vary between CPU types. Please refer to www.intel.com for any updates. |
| | ** Support [email protected] as specified in DisplayPort 1.4 |
| | *** Support [email protected] as specified in HDMI 2.1. |
| Expansion Slots | |
| Intel® 12th Gen Processors* | 1 x PCIe 5.0 x16 slot |
| | – Intel® 12th support PCIe 5.0 x16 mode |
| Intel® Z690 Chipset | 1 x PCIe 3.0 x16 slot (supports x4 mode or x4/x4 mode) |
| | 1 x PCIe 3.0 x1 slot |
| | * Please check PCIe bifurcation table in support site. |
| Storage | |
| Intel®12th Gen Processors* | M.2_1 slot (Key M), type 2242/2260/2280/22110 (supports PCIe 4.0 x4 mode) |
| Intel® Z690 Chipset** | M.2_2 slot (Key M), type 2242/2260/2280 (supports PCIe 4.0 x4 mode) |
| | M.2_3 slot (Key M), type 2242/2260/2280/22110 (supports PCIe 4.0 x4 mode) |
| | M.2_4 slot (Key M), type 2242/2260/2280 (supports PCIe 4.0 x4 & SATA modes) |
| | 6 x SATA 6Gb/s ports*** |
| | * Intel® Rapid Storage Technology supports NVMe RAID 0/1/5, SATA RAID 0/1/5/10. |
| | ** Intel® Rapid Storage Technology supports Intel® Optane Memory H Series on PCH attached M.2 slots. |
| | *** RAID configuration is not supported on the SATA6G_E1-2 ports. |
| Wireless & Bluetooth | Wi-Fi 6E |
| | 2×2 Wi-Fi 6E (802.11 a/b/g/n/ac/ax) |
| | Supports 2.4/5/6GHz frequency band* |
| | Bluetooth v5.2 hardware ready** |
| | * WiFi 6E 6GHz regulatory may vary between countries, and function will be ready in Windows 11 or later. |
| | ** Bluetooth v5.2 function will be ready in Windows 11 or later. |
| USB | |
| Rear USB:Total 10 ports | 1 x USB 3.2 Gen 2×2 port (1 x USB Type-C®) |
| | 3 x USB 3.2 Gen 2 ports (2 x Type-A + 1 x USB Type-C®) |
| | 4 x USB 3.2 Gen 1 ports (4 x Type-A) |
| | 2 x USB 2.0 ports (2 x Type-A) |
| Front USB:Total 7 ports | 1 x USB 3.2 Gen 2×2 connector (supports USB Type-C®) |
| | 1 x USB 3.2 Gen 1 header supports additional 2 USB 3.2 Gen 1 ports |
| | 2 x USB 2.0 headers support additional 4 USB 2.0 ports |
| Audio | |
| ROG SupremeFX 7.1 Surround Sound High Definition Audio CODEC ALC4080 | – Impedance sense for front and rear headphone outputs |
| | – Supports: Jack-detection, Multi-streaming, Front Panel Jack-retasking |
| | – High quality 120 dB SNR stereo playback output and 113 dB SNR recording input |
| | – Supports up to 32-Bit/384 kHz playback" |
| Audio Features | – SupremeFX Shielding Technology |
| | – ALC4080 + Savitech SV3H712 AMP |
| | – Gold-plated audio jacks |
| | – Rear optical S/PDIF out port |
| | – Premium audio capacitors |
| | – Audio cover |
| Internal I/O Connectors | |
| Fan and Cooling related | 1 x 4-pin CPU Fan header |
| | 1 x 4-pin CPU OPT Fan header |
| | 1 x 4-pin AIO Pump header |
| | 5 x 4-pin Chassis Fan headers |
| Power related | 1 x 24-pin Main Power connector |
| | 2 x 8-pin +12V Power connector |
| Storage related | 4 x M.2 slots (Key M) |
| | 6 x SATA 6Gb/s ports |
| USB | 1 x USB 3.2 Gen 2×2 connector (supports USB Type-C®) |
| | 1 x USB 3.2 Gen 1 header supports additional 2 USB 3.2 Gen 1 ports |
| | 2 x USB 2.0 headers support additional 4 USB 2.0 ports |
| Miscellaneous | 3 x Addressable Gen 2 headers |
| | 1 x AURA RGB header |
| | 1 x BMC header |
| | 1 x CPU Over Voltage jumper |
| | 1 x Front Panel Audio header (AAFP) |
| | 1 x SPI TPM header (14-1pin) |
| | 1 x 20-3 pin System Panel header with Chassis intrude function |
| | 1 x Thermal Sensor header |
| | 1 x Thunderbolt header |
| Special Features | |
| Extreme Engine Digi+ | – 5K Black Metallic Capacitors |
| ASUS Q-Design | – M.2 Q-Latch |
| | – PCIe Slot Q-Release |
| | – Q-DIMM |
| | – Q-LED (CPU [red], DRAM [yellow], VGA [white], Boot Device [yellow green]) |
| | – Q-Slot |
| ASUS Thermal Solution | – M.2 heatsink backplate |
| | – M.2 heatsink |
| ASUS EZ DIY | – BIOS FlashBack™ button |
| | – BIOS FlashBack™ LED |
| | – Clear CMOS button |
| | -CPU Socket lever protector |
| | – ProCool II |
| | – Pre-mounted I/O shield |
| | – SafeSlot |
| | – SafeDIMM |
| | AURA Sync |
| | – AURA RGB header |
| | – Addressable Gen 2 RGB headers |
| ASUS HYDRANODE | – 1 x Chassis fan support* (CHA_FAN1P) |
| | * Visit ASUS Website for the latest compatibility list. |
| | TPM header |
| Software Features | |
| ROG Exclusive Software | – ROG CPU-Z |
| | – GameFirst VI |
| | – Sonic Studio III + Sonic Studio Virtual Mixer + Sonic Suite Companion |
| | – Sonic Radar III |
| | – DTS® Sound Unbound |
| | – Anti-virus software |
| | ASUS Exclusive Software |
| | Armoury Crate |
| | – AIDA64 Extreme (60 days free trial) |
| | – AURA Creator |
| | – AURA Sync |
| | – Fan Xpert 4 |
| | – Two-Way AI Noise Cancelation |
| | AI Suite 3 |
| | – Easy Optimization with AI Overclocking |
| | TPU |
| | EPU |
| | DIGI+ VRM |
| | Turbo app |
| | MyAsus |
| | WinRAR |
| | UEFI BIOS |
| | AI Overclocking Guide |
| | ASUS EZ DIY |
| | – ASUS CrashFree BIOS 3 |
| | – ASUS EZ Flash 3 |
| | – ASUS UEFI BIOS EZ Mode |
| | FlexKey |
| | MemTest86 |
| BIOS | 256 Mb Flash ROM, UEFI AMI BIOS |
| Manageability | WOL by PME, PXE |
| Accessories | Cables |
| | 4 x SATA 6Gb/s cables |
| | Miscellaneous |
| | 1 x ASUS 2×2 Dual-Band Wi-Fi moving antennas |
| | 1 x M.2 Q-Latch package |
| | 1 x M.2 Q-Latch package for M.2 backplate |
| | 2 x M.2 Rubber Packages |
| | 1 x ROG key chain |
| | 1 x cable tie |
| | 1 x ROG STRIX stickers |
| | 1 x ROG STRIX thank you card |
| | Installation Media |
| | 1 x Support DVD |
| | Documentation |
| | 1 x User manual |
| Operating System | Windows® 11 64-bit, Windows® 10 64-bit |
| Form Factor | ATX |
| | 30.5cm x 24.4cm |
Additional Information
Product Manufactured by: ASUS
Product Found in: ASUS Motherboard
Cackle Part Number: 504346
Manufacturer Part Number: 90MB18M0-M0UAY0