Product Overview
Asus GTX 1660 Ti Graphics Card – GeForce EVO 6GB GDDR6 (90YV0CT8-M0NA00)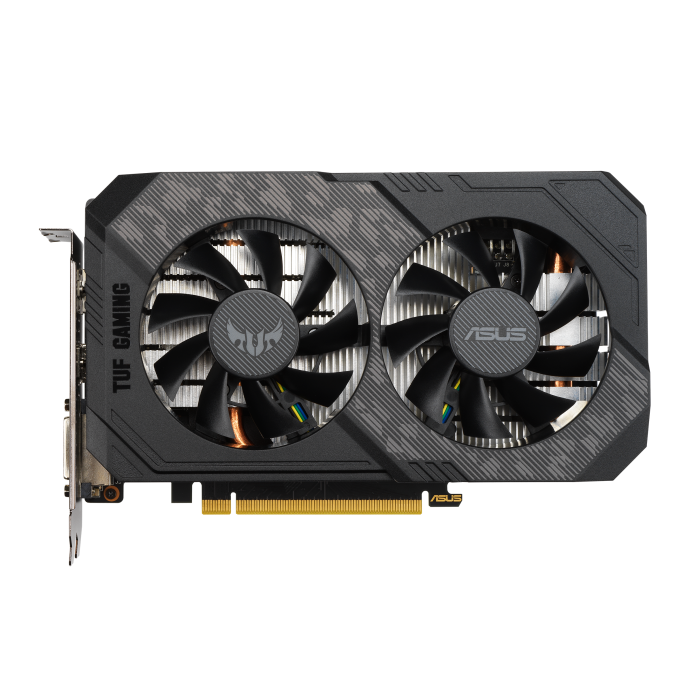 Asus GTX 1660 Ti Graphics Card Description
Asus GTX 1660 Ti Graphics Card – GeForce EVO 6GB GDDR6 (90YV0CT8-M0NA00) – ASUS TUF Gaming GeForce® GTX 1660 Ti EVO 6GB GDDR6 rocks high refresh rates for an FPS advantage without breaking a sweat.
The GeForce® GTX 1660 Ti is built with the breakthrough graphics performance of the award-winning NVIDIA Turing™ architecture.
Broadcast your gameplay with the GTX 1660 Ti's dedicated hardware encoder that is optimized for Open Broadcaster Software (OBS).
GeForce Experience lets you capture and share videos, screenshots, and livestreams with friends, keep GeForce drivers up to date, and easily optimize your in-game settings.
Space-grade lubricant brings the durability of dual ball bearings to quieter sleeve bearing designs.
DirectCU II copper heatpipes make direct contact with the die for better cooling.
Auto-Extreme Technology uses automation to enhance reliability.
144-hour validation program puts cards through a series of stringent tests to ensure compatibility with the latest games.
TUF compatibility testing runs cards through a suite of tests to ensure TUF Gaming motherboards, chassis, and other TUF Gaming alliance components work together flawlessly.
GPU Tweak II provides intuitive performance tweaking and thermal controls.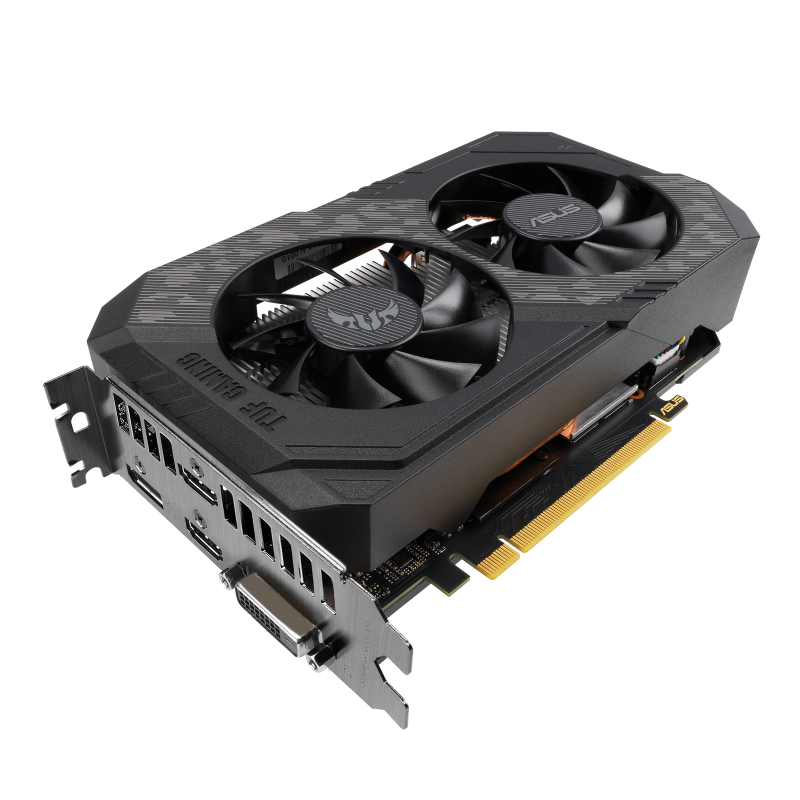 Feature
Built TUF
The ASUS TUF Gaming GeForce® GTX 1660 Ti EVO stacks durability, compatibility, and performance to bring reliable 3D horsepower to the TUF Gaming ecosystem. Stand-out features include Auto-Extreme Technology, TUF compatibility testing, and two fans with space-grade lubricant and IP5X dust resistance.
IP5X Dust Resistance – Keep it clean
Dust is enemy number one for fans. It's easy to clean the blades, but taking the fan apart to remove dust that has made its way inside is not a simple task. Passing the IP5X certification means the housing is safe from nasty particulates, so you'll never need that deep clean.
Space−grade Lubricant – Improved lubricity
Infused with a durable lubricant often found in aerospace applications, these sleeve bearings deliver a quieter acoustic profile than dual ball bearing designs and match their durability.
DirectCU II – First contact
Copper heatpipes make direct contact with the die for improved thermal transfer.
Auto-Extreme Technology – Precision automated manufacturing
Auto-Extreme Technology is an automated manufacturing process that sets new standards in the industry by allowing all soldering to be completed in a single pass. This reduces thermal strain on components and avoids the use of harsh cleaning chemicals, resulting in less environmental impact, lower manufacturing power consumption, and a more reliable product overall.
Protective Backplate – No flexin'
The PCB is reinforced by a backplate that adds structural rigidity, helping to prevent PCB flex and protect components and trace pathways from damage.
Compact Design – The pieces fit
The TUF Gaming GeForce GTX 1660 Ti EVO packs potent rendering power into a compact frame that maximizes compatibility with the latest chassis.
Stainless Steel Bracket – Steel yourself
The mounting bracket of the TUF Gaming GeForce GTX 1660 Ti EVO has been beefed up with 304 Stainless Steel that is harder and more resistant to corrosion.
Technical Specifications
Graphic Engine: NVIDIA® GeForce GTX 1660 Ti
Bus Standard: PCI Express 3.0
OpenGL: OpenGL®4.6
Video Memory: 6GB GDDR6
Engine Clock
OC mode : 1800 MHz (Boost Clock)
Gaming mode : 1770 MHz (Boost Clock)
CUDA Core: 1536
Memory Speed: 12 Gbps
Memory Interface: 192-bit
Resolution: Digital Max Resolution 7680 x 4320
Interface
Yes x 1 (Native DVI-D)
Yes x 2 (Native HDMI 2.0b)
Yes x 1 (Native DisplayPort 1.4a)
HDCP Support Yes (2.2)
Maximum Display Support: 4
NVlink/ Crossfire Support: No
Accessories: 1 x Speedsetup Manual
Software: ASUS GPU Tweak II & GeForce Game Ready Driver & Studio Driver: please download all software from the support site.
Dimensions
206 x 124 x 46 mm
8.1 x 4.9 x 1.8 inch
Recommended PSU: 450W
Power Connectors: 1 x 8-pin
Slot: 2.3 Slot
Note
* Our wattage recommendation is based on a fully overclocked GPU and CPU system configuration. For a more tailored suggestion, please use the "Choose By Wattage" feature on our PSU product page: https://rog.asus.com/event/PSU/ASUS-Power-Supply-Units/index.html
* All specifications are subject to change without notice. Please check with your supplier for exact offers. Products may not be available in all markets. If you do not use the latest and current specifications of ASUS products, you shall be liable for all loss and damage claimed by third party to ASUS based on false advertising or any other issues caused from using false specifications of ASUS products.liable for all loss and damage claimed by third party to ASUS based on false advertising or any other issues caused from using false specifications of ASUS products.
Additional Information
Product Manufactured by: Asus
Product Found in: NVIDIA Graphics Card
Cackle Part Number: 504063
Manufacturer Part Number: 90YV0CT8-M0NA00