Cowin SE7 Max Wireless ANC Bluetooth Headphone – Black/White
Cowin SE7 Max Description
Cowin SE7 Max wireless headphones are engineered to sound better, be more comfortable and easier to take with you. Plus with apt-X. you can enjoy low latency, good fault tolerance, and high sound quality. Put them on, and suddenly everything changes. Your music is deep, powerful and balanced, and so quiet that every note sounds clearer. Even air travel becomes enjoyable, as engine roar gently fades away. No matter how noisy the world is, it's just you and your music-or simply peace and quiet.
Features
Lose Noise
Our Active Noise Cancelling (ANC) mainly focus on cancelling out lower frequency sounds like engines, aviation environment, trains, traffic noise etc, so our valuable customers can focus on their music, movies, or books without being disturbed by outside noises. ANC does not cancel out noises like snoring, talking, music or high frequency sounds etc.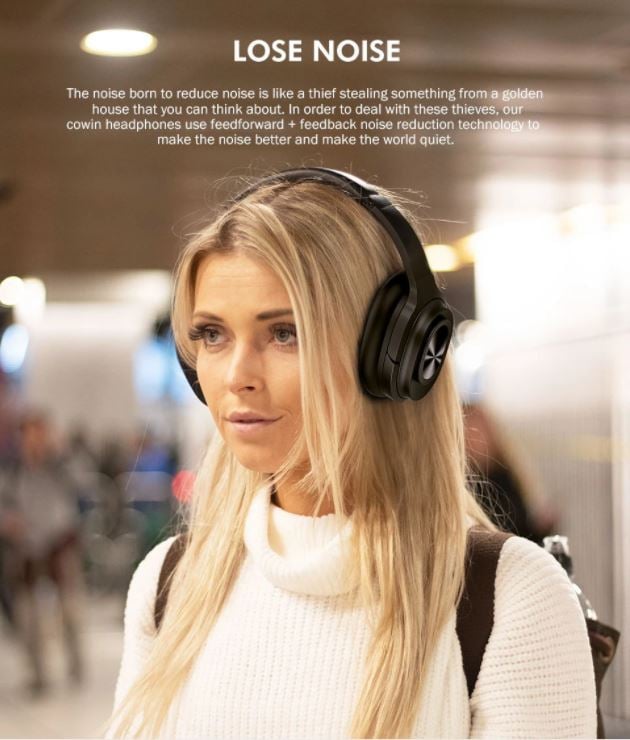 Lose Wires
Hassle-free wireless is simpler than ever: Bluetooth 5.0 connections are quick and easy. Get rid of the wire bonds, but without compromising sound quality. Only you and music, pure and free.
Unsurpassed Sound
With apt-X, you can enjoy low latency, good fault tolerance, and high sound quality. Discover sound quality that brings out the best in your music—including subtle details you may never have noticed.
Control on your Headphones
Answer the call, volume, ANC on/off, tuning control located on the headphones. Let you easily switch between calls and music on your smartphone, plus control music and other functions on various Apple, and Android devices.
Amazing Package for Gift
The Cowin SE7 wireless noise cancelling headphones come with a nice package. You can buy it for yourself and your family, or friends as the nice gifts, help them away from the noise and enjoy music.
Specifications
Noise Reduction: 20Hz-20KHz
Denoising Depth: -28/-32dB
Noise Reducction Bandwidth: 20Hz-1KHz
Noise Reduction Chip: AMS AS3235*2
Audio Input: Wireless/Wired
Size: Diameter 40mm
Impedence: 32 Ohm
Speaker Sensitivity: 105dB at 1KHz
Noise Reduction Mic: 4
Battery Capacity: 800 mah
Music/Call Duration: ~30 Hours
Noise Reduction Method: FF+FB (Feed forward & Feed back)
Bluetooth Protocol: Avrcp, a3dp, hfp, aptx, sppv, aac, cvc
Additional Details
Product Manufactured by: Cowin
Product Found in: Wireless Headphones
Cackle Part Number: CCO004, CCO014
Manufacturer Part Number: 8414724573108, 8414825668765