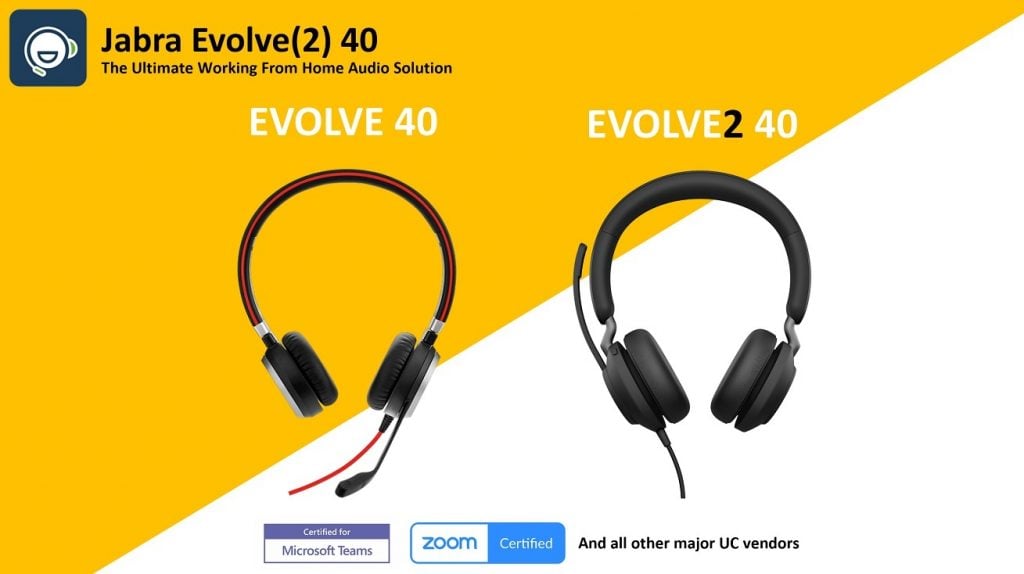 Jabra Evolve 40 vs Evolve2 40
Jabra Evolve2 40 came on the scene in April 2020 and took the business headset world by storm. Since then, when customers come across both models they are asking the question "What's the difference between them?"
First, there is a substantial change of design and appearance between the two. When the Evolve 40 was released, it was an "eye catching" headset with it's pops of orange trim upon the black headset, the look is professional and sturdy. While the new Evolve2 40 has rounder edges with an all out black design and beefier ear cushion. For some it may be more aesthetically pleasing but appearances are subjective, so you be the judge.
Evolve 40 and Evolve2 40 is the ideal headset for remote work and it won't break the bank. If you are still searching for a headset for remote work during lockdown, take this chance and grab one today. To find out available models in Evolve 40 and Evolve2 40 range, click on the button below.

Shop Jabra Evolve 40 and Evolve2 40

To take a deeper dive between the two models, Evolve 40 supports 3.5mm and USB-A / USB-C connectivity. The Evolve2 40 only offer USB-A and USB-C connectivity, there is no 3.5mm option.
Both model have single and dual ear wearing styles and are available in UC and Microsoft Teams variant. Busy light is available on the speaker to indicate to others you are in a call. The Evolve2 40 has a more pronounced busy light that is visible from all angles and the same LED light also act as an indicator for status features.
Primary difference is the movement of call controls. The Evolve 40 has an inline controller where as Evolve2 40 has all the controls build to the side of the earpiece.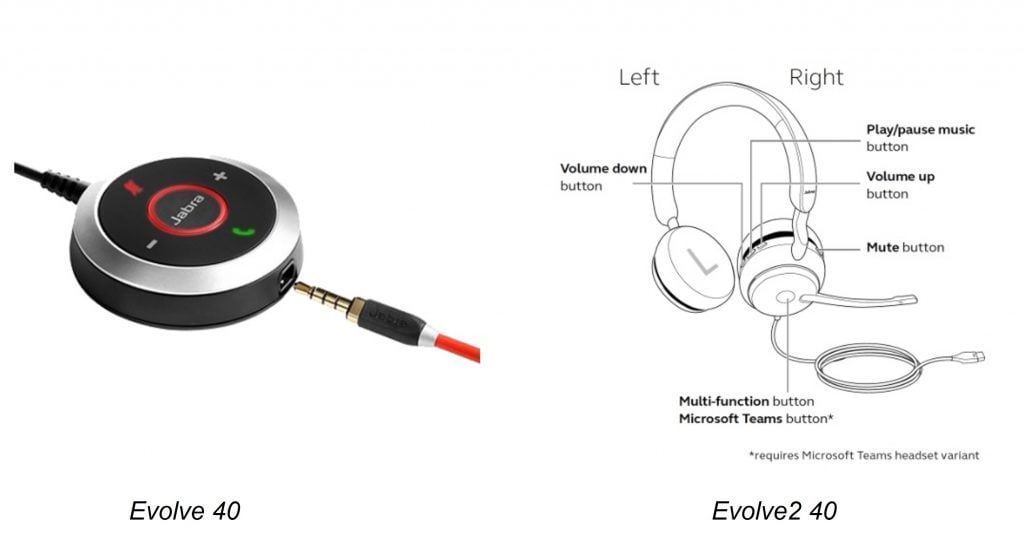 One other major difference is the dedicated Microsoft Teams button on the MS Variant of Evolve2 40. This button allows you to bring the Microsoft Teams window to the front on a Windows PC, join a Teams meeting, and check missed calls and voicemail.
The Evolve2 40 equip with 3 microphone setup and it is Microsoft Teams Open Office Certified – An enhanced requirement for headsets and provide the best possible performance for use in noisy environments or open offices where nearby sounds or voices are present.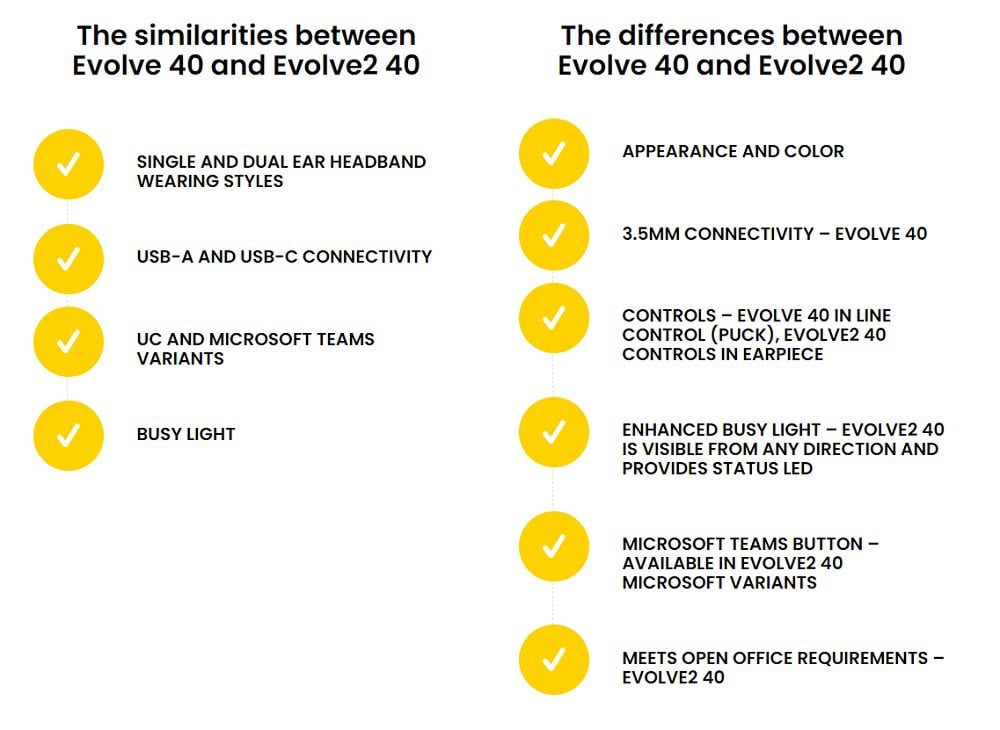 Both headsets are in the sub $200 range and at this price range, there isn't any better headsets out there. Jabra is a company that specializes in audio and communications hardware. You know you're getting the best of the best with Jabra when it comes to premium audio, comfort, design and reliability.
To conclude the comparison, if you're a user who has a use case and prefer the optional 3.5mm connectivity, Evolve 40 is your choice. If you're a person who live and breath in the Microsoft Teams environment, Evolve2 40 is your device. Either way, you can't go wrong with both of these selection.